Edition: June 29-July 3, 2020
Resources
News by Sector
Economy
Government Operations
Multiculturalism
Services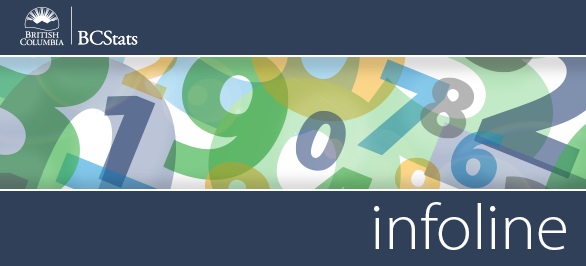 Infoline Highlights for the Week of June 29-July 3

Exports - The value of B.C. origin exports fell 15.0% through the first five months of 2020, compared to the same period a year earlier. Exports were down to most major destinations, including the United States (-9.4%), Mainland China (-12.9%), Japan (-4.9%), South Korea (‑29.2%), the European Union (-45.0%), India (-48.3%), Taiwan (-15.3%) and the United Kingdom (-11.8%).
Read more >>
Bankruptcies - Consumers filed 176 bankruptcies in British Columbia in May, a decrease of 53.1% compared to May 2019. There were more business bankruptcies, amounting to ten businesses in the province, compared to seven in the same month last year (+42.9%). Of the ten business bankruptcies, two were filed by individual businesses and eight by a corporation.
Read more >>
Gross Domestic Product - Canadian real GDP by industry at basic prices fell 11.6% in April, the largest monthly decline in nearly 60 years. April was the first full month of lockdown for non-essential businesses, schools, public institutions and travel restrictions to slow the spread of COVID-19.
Read more >>
Quarterly Population Highlights - The population of B.C. was estimated at 5,120,184 as of January 1, 2020, growing by 9,267 persons in the first quarter of 2020 (up 0.18% from January 1, 2020). Combined net in-migration from all sources (inter-provincial and international) totalled 9,271 persons during the first quarter of 2020, down a third from the same quarter in 2019.
Read more >>
Industrial Product Price Index - Canadian manufacturers' selling prices fell 4.9% in May, compared to the same month a year earlier. Lower prices for energy and petroleum products (-43.0%) were the major contributor for the overall price decrease.
Read more >>
Building Permits - The value of building permits (seasonally adjusted) issued by B.C. municipalities went up 4.4% in May compared to April. The increase was widespread among all building categories except institutional and governmental building permits which fell by 54.9% in May compared to April, bringing down the value of non-residential permits by 17.9%.
Read more >>





Current Surveys
BC Hydro Workforce Profile Survey
BC Public Service Exit Survey
BC Public Service New Job Survey

BC Student Outcomes Survey of Diploma, Associate Degree and Certificate Students

Coast Mountain School Board School District 82 Work Environment Survey




Remote Work Sustainability and Work Site Reintegration




Workforce Development Agreement Outcomes

Workforce Development Agreement Employer Outcomes



You can read more about any of these by visiting our Current Surveys page.



Did You Know
Household food insecurity (when there is compromised quality or quantity of food, or worse, reduced food intake and disrupted eating patterns) in Canada affected 1.2 million out of 14.3 million households in 2017/2018. Households in Nunavut (49.4%) and Northwest Territories (15.9%) were most likely to experience food insecurity, while Quebec (7.4%)and B.C. (8.7%) households were the least likely.
Source: Statistics Canada


Headlines
B.C. exports declined year-to-date to May compared to the first five months of 2019.

Consumer bankruptcies in May decreased compared to May 2019, although bankruptcy filings for businesses increased.

B.C.'s population increased between January 1, 2020 and April 1, 2020.





COVID-19
BC Stats is working to produce data and information that helps government, business and public decision-makers understand the social and economic impacts of COVID-19.