Edition: June 3-7, 2019
Resources
News by Sector
Economy
Government Operations
Multiculturalism
Services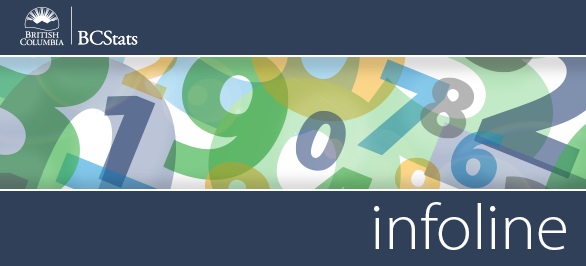 Infoline Highlights: Coverage for the week of June 3-7

Labour Force Statistics - The unemployment rate in British Columbia (for those aged 15 years and over) was 4.3% in May, down 0.3 percentage points from April and down 0.5 percentage points from 12 months ago. Both the labour force (+10,200) and the number of jobs (+16,800) increased from April.
Read more >>
Exports - Through the first four months of 2019, B.C. origin exports dipped 1.4% compared to the same four-month period a year earlier. This is despite the fact that exports increased to B.C.'s two largest markets, the United States (+1.3%) and Mainland China (+6.7%). There was a substantial decline in shipments to a number of Asian destinations, including Japan (‑21.1%), South Korea (-17.1%), and Hong Kong (‑31.1%).
Read more >>
Industrial Product Price Index -Canadian manufacturers' prices were somewhat higher (+1.8%) this April than in the same month of 2018. A 3.2% year-over-year jump in the price of motorized and recreational vehicles was the largest contributor to the overall increase, and price boosts for meat, fish and dairy products (+5.9%) also exerted upward pressure.
Read more >>




Current Surveys
BC Council on Admissions & Transfer Survey of Mobile Students



BC Hydro Workforce Profile Survey
BC Public Service Exit Survey
BC Public Service New Job Survey
BC Student Outcomes Survey of Apprenticeship and Trades Training Students


BC Student Outcomes Survey of Diploma, Associate Degree and Certificate Students

Canada-BC Job Grant Outcomes Survey
FrontCounter BC Customer Satisfaction Survey
Labour Market Agreement for Persons with Disabilities Outcomes Survey


Long Term Disability (LTD) Application Process Survey

WES Pulse Check

Workforce Development Agreement Outcomes

Workforce Development Agreement Employer Outcomes



You can read more about any of these by visiting our Current and Recent Surveys page.



Did You Know
2018 was the worst forest fire season for B.C. on record, with 1.35 million hectares of forests burned, at a cost of $615 million for fire management and suppression operations alone. The tally of evacuation and property loss costs, as well as the impact on the agriculture, tourism, construction and forestry industries, is still outstanding.
Source: Statistics Canada


Headlines
B.C.'s unemployment rate dropped in May over the month before.

B.C.'s exports dipped in April from the same period a year before.

B.C.'s Industrial Product Price Index rose slightly in April from April 2018.