Edition: June 4, 2018
Resources
News by Sector
Economy
Government Operations
Multiculturalism
Services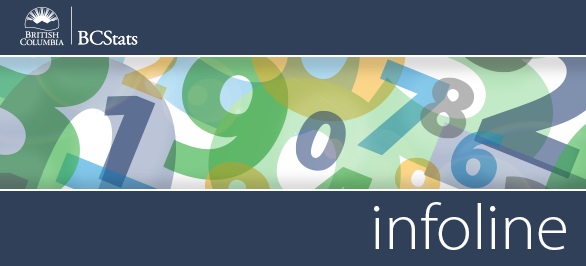 Infoline Highlights: Coverage for the week of May 28 - June 1

Bankruptcies - In March 2018, there was a decline of 23.9% in overall bankruptcies in British Columbia compared to March 2017. Of the 351 bankruptcies, 7 were filed by businesses. Consumer bankruptcies also fell (-23.2%) in March, compared to the same month a year earlier.
Read more >>
Average Weekly Earnings - Average weekly earnings of payroll employees in British Columbia (seasonally adjusted, current dollars) went up in March, increasing by $3.64 (+0.4%) to reach $962.44.
Read more >>
Gross Domestic Product - Canadian real GDP by industry at basic prices advanced 0.3% in March, following a 0.4% increase in the previous month. The goods-producing industries expanded 0.6%, while the services-producing industries were up by 0.2%.
Read more >>
Gross Domestic Product, 1st Quarter 2018 - The Canadian economy continued to expand in the first quarter of 2018, with real GDP advancing 0.3% (seasonally adjusted) following a 0.4% increase in the last quarter of 2017.
Read more >>
Industrial Product Price Index - Canadian manufacturers' selling prices climbed 2.4% in April, compared to the same month a year earlier. The price of raw materials purchased by Canadian manufacturers rose 8.9% in April compared to April the previous year, slightly slower than the 10.0% annual price growth observed in March.
Read more >>
Food Services and Drinking Places - Revenues generated in British Columbia's food service and drinking places industry went up by 0.3% (seasonally adjusted) in March, led by an increase in sales in limited-service eating places.
Read more >>
Tourism Room Revenues - For British Columbia, overall room revenues rose during the month of March. On a regional basis, all tourism regions reported revenue increases compared to twelve months ago with the exception of The Islands.
Read more >>
Economic Insights: B.C. - Statistics Canada released a new report in the publication Economic Insights summarizing recent changes in production, labour market and housing market activity in British Columbia. Economic growth in British Columbia was the highest among the provinces in 2015 (+3.3%) and 2016 (+3.6%), and accelerated further in 2017 (+3.9%). From 2014 to 2016, British Columbia's economy expanded at the fastest pace in a decade.
Read more >>


@BCStats on Twitter
Rising prices for energy and petroleum products (+15.1%) contributed to Canadian manufacturers' overall selling price growth in April.

Follow @BCStats on Twitter


Current Surveys
BC Apprenticeship Discontinuers Survey
BC Assessment Employee Engagement Pulse Survey

BC Hydro Workforce Profile Survey
BC Public Service Exit Survey
BC Student Outcomes Survey of Apprenticeship and Trades Training Students
BC Student Outcomes Survey of Diploma, Associate Degree and Certificate Students
Canada-BC Job Grant Outcomes Survey
FrontCounter BC Customer Satisfaction Survey
New Job Survey
School District #62 (Sooke) Work Environment Survey
Social Development and Poverty Reduction (SDPR) LMAPD Monthly Survey
Survey on Skills, Competencies and Characteristics for Future Workforce
You can read more about any of these by visiting our Current and Recent Surveys page.



Did You Know
As a result of the worst wildfire season on record, domestic itinerant aircraft movements at the Williams Lake Airport increased dramatically throughout the summer of 2017. As a result, aircraft take-offs and landings almost doubled, growing 89% to reach 15,557 in 2017 compared to the prior year.
Source: Statistics Canada



Headlines
In March 2018, there was a decline in overall bankruptcies in B.C. compared to March 2017.

Average weekly earnings of payroll employees in B.C. went up in March compared to February.

Canadian real GDP by industry at basic prices advanced in March.