Edition:
Resources
Top News by Sector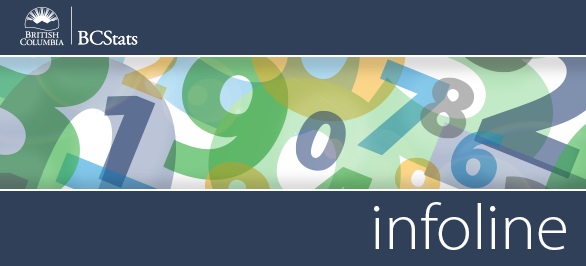 Infoline Highlights: Coverage for the week of May 30 - June 3

Exports - The value of B.C.'s commodity exports inched down 0.9% in April, mostly due to a 3.8% drop in shipments of forestry products and building and packaging materials, and a 5.1% fall in exports of energy products. An 18.3% jump in shipments of metal ores and non-metallic minerals helped offset some of the declines elsewhere.
Read more >>
Gross Domestic Product (GDP) - The Canadian economy picked up speed in the first quarter, growing 0.6% (seasonally adjusted at annual rates, chained 2007 dollars) after inching ahead (+0.1%) at the end of 2015.
Read more >>

Bankruptcies - The number of consumer bankruptcies in the province was slightly higher in March (+0.4%) over the same month last year. There were 486 bankruptcies in March, compared to 484 in March 2015.
Read more >>
Food Services and Drinking Places - B.C.'s food services and drinking places saw higher revenues (+0.7%, seasonally adjusted) in March, nearly erasing losses recorded in the previous month
(-0.9%).
Read more >>

Industrial Product Price Index (IPPI) - Canadian manufacturers' prices slipped 1.6% in April compared to the same month of 2015, a similar rate of decrease to that of the last two months.
Read more >>


@BCStats on Twitter
The value of energy product exports fell 16.0% year-to-date to April
Follow @BCStats on Twitter


Current Surveys
Agricultural Land Commission Work Environment Survey 2016

Apprenticeship Student Outcomes (APPSO) Survey
Baccalaureate Graduate Survey
BC Hydro Workforce Profile Survey
BC Labour Market Agreement Outcomes Survey
BC Public Service Exit Survey
Canada-BC Job Grant Outcomes Survey

Diploma, Associate Degree, and Certificate Student Outcomes (DACSO) Survey
FrontCounter BC Customer Satisfaction Survey
Long Term Disability (LTD) Application Process Survey

West Vancouver Police Department Work Environment Survey 2016

You can read more about any of these by visiting our Current and Recent Surveys page.



Did You Know
The proportion of dual-income families in B.C. has almost doubled in the last 40 years―from 36% to 67% of families, from 1976 to 2015.
Source: Statistics Canada


Headlines
B.C.'s wood product exports jump 14.7% over the first four months of 2016

Canadian economy picks up speed in the first quarter, growing 0.6%

B.C.'s food services and drinking places see revenues climb 0.7% in March