Edition: March 11-15, 2019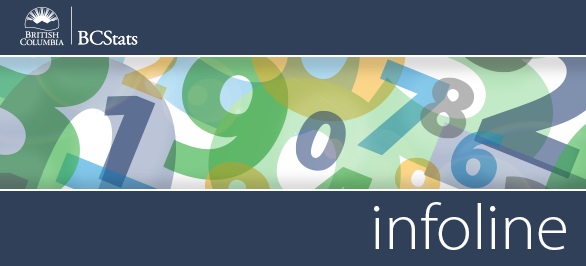 Infoline Highlights: Coverage for the week of March 11-15

Registered Retirement Savings Plans - The number of British Columbians who contributed to Registered Retirement Savings Plans (RRSPs) totalled 759,830 in 2017, up 1.1% from 2016. RRSP contributors represented 21% of all taxfilers (includes those who are ineligible to contribute) in the province.
Read more >>
Language - In the 2016 census, the percentage of British Columbians who identified English as their mother tongue (defined as "the first language learned at home in childhood and still understood by the individual at the time of the census") was 70.0%, while 1.4% cited French, and 28.6% reported a non-official language as their mother tongue.
Read more >>
Manufacturing Sales - Manufacturing sales in British Columbia were notably higher (+2.4%, seasonally adjusted) in January, more than recovering from a 1.3% decrease in the previous month. Non-durables were up 1.7% as a result of stronger sales from producers of food (+1.2%), paper (+2.1%) and printing and related support activities (+1.3%) products.
Read more >>
Price of New Housing - Relative to the same month of 2018, the cost of new housing in B.C.'s capital city continued to climb in January. Home builders in Victoria received 0.9% more for their projects, the result of increases in housing prices (+1.1%) and land value (+0.6%).
Read more >>



In the 2016 Census, 70% of British Columbians said that English was their mother tongue, 1.4% cited French, and 28.6% reported non-official languages.

Follow @BCStats on Twitter


Current Surveys
BC Council on Admissions & Transfer Survey of Mobile Students



BC Hydro Workforce Profile Survey
BC Public Service Exit Survey
BC Public Service New Job Survey
BC Student Outcomes Survey of Apprenticeship and Trades Training Students


BC Student Outcomes Survey of Diploma, Associate Degree and Certificate Students

CABRO Diversity

Canada-BC Job Grant Outcomes Survey
Diversity and Inclusion Survey

FrontCounter BC Customer Satisfaction Survey
Labour Market Agreement for Persons with Disabilities Outcomes Survey


Long Term Disability (LTD) Application Process Survey

New Entrants to Agriculture

School District No. 22 (Vernon) Employee Engagement



You can read more about any of these by visiting our Current and Recent Surveys page.



Did You Know
Private short-term accommodations in Canada generated $2.8 billion in 2018, with 93% of that revenue going to the hosts. Ontario, B.C. and Quebec had the largest markets by far, with B.C., PEI and Yukon leading in supply densities.
Statistics Canada


Headlines
More people in B.C. contributed to an RRSP in 2017 than in 2016.

Manufacturing sales in B.C. were higher in January over the month before.

Victoria's price of new housing increased in January over the same month in 2018.