Edition: March 12, 2018
Resources
News by Sector
Economy
Government Operations
Multiculturalism
Services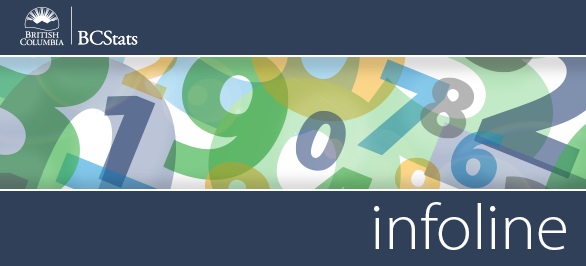 Infoline Highlights: Coverage for the week of March 5 - 9

Quarterly & Annual Gross Domestic Product (GDP) - During 2017, the Canadian economy expanded 3.0%, posting the highest annual increase in real GDP since 2011.
Read more >>
Exports - The value of B.C. origin exports fell 1.5% in January, compared to the same month in 2017.
Read more >>
Labour Force Survey- Compared to January, there were 28,500 fewer full-time jobs in February, and 25,200 more part-time jobs.
Read more >>
Gross Domestic Product (GDP) - Canadian real GDP by industry at basic prices (seasonally adjusted) inched ahead (+0.1%) in December.
Read more >>
Price of New Housing - Relative to the same month of 2017, the cost of new housing in B.C. continued to climb in January, rising by 7.9%.
Read more >>
Housing Starts- Housing starts in urban areas (areas with population of at least 10,000) in British Columbia fell by 26.1% (seasonally adjusted at annual rates) in February compared to January.
Read more >>



@BCStats on Twitter
Lumber exports fell 15.6% from January 2017 to January 2018, while metallic mineral product shipments rose 18.6% during the same period.

Follow @BCStats on Twitter


Current Surveys
BC Hydro Workforce Profile Survey
BC Public Service Exit Survey
BC Student Outcomes Survey of Apprenticeship and Trades Training Students
BC Student Outcomes Survey of Diploma, Associate Degree and Certificate Students
Canada-BC Job Grant Outcomes Survey
Community Gaming Grants Survey
FrontCounter BC Customer Satisfaction Survey
New Job Survey
Social Development and Poverty Reduction (SDPR) LMAPD Monthly Survey
The College of New Caledonia Work Environment Survey
U-Pass BC Survey
You can read more about any of these by visiting our Current and Recent Surveys page.



Did You Know
The proportion of young people aged 15-19 who are not in employment, education or training (NEET) is 7.1% in B.C., higher than the national average of 6.3%. NEET is an indicator of potential barriers making the transition from school to the labour market, and the proportion of youth who may be at higher risk of social exclusion and depression.
Source: Statistics Canada


Headlines
The Canadian economy continued to expand in the fourth quarter of 2017.

B.C. exports fell in January, compared to the same month a year ago.




In February, there was a small decrease in the number of people employed in British Columbia compared to January.