Edition: March 13, 2017
Resources
News by Sector
Economy
Government Operations
Multiculturalism
Services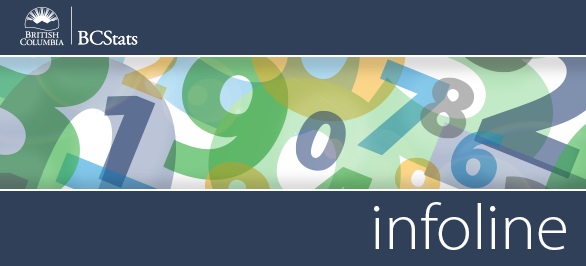 Infoline Highlights: Coverage for the week of March 6 - 10

Labour Force Statistics - The unemployment rate in British Columbia was 5.1% in February, down from 5.6% in January. The gain in employment relative to the previous month (+19,400) was much greater than the increase in the size of the labour force (+6,600).
Read more >>
Price of New Housing - The cost of new housing in B.C.'s two largest metropolitan areas continued to climb in January. In Victoria, new housing prices jumped 5.5% over the same month of 2016, while homebuilders in the Vancouver area received 3.6% more for their projects.
Read more >>
Housing Starts - Urban housing starts (in centres with 10,000+ population) in the province began to bounce back in February, rising 6.8% (seasonally adjusted at annual rates) following a 32.9% drop-off in January. Nationally, the number of starts edged up 0.9% in February, with strong gains occurring in most of western Canada as well as Quebec (+21.5%).
Read more >>
Labour Productivity - Workers in B.C. businesses earned $99.6 billion in wages, salaries and benefits during 2015, an increase of 4.5% over the previous year. This marked the first time since 2006 that labour income in the province has grown faster than the national average (+3.0% in 2015).
Read more >>
Adult Criminal Court - A total of 33,930 criminal cases appeared before adult courts in B.C. in 2014/15, down 7.7% from the previous year. Of the cases tried in B.C. in 2014/15, 72% resulted in a guilty verdict.
Read more >>
Exports - The value of B.C. origin exports climbed 25.8% year-over-year from January 2016 to January 2017. There was strong growth to B.C.'s largest trading partner, the United States, at 21.5%.
Read more >>




Current Surveys
Apprenticeship Student Outcomes (APPSO) Survey
Baccalaureate Graduate Survey
BC Hydro Workforce Profile Survey
BC Public Service Exit Survey
Canada-BC Job Grant Outcomes Survey
Diploma, Associate Degree, and Certificate Student Outcomes (DACSO) Survey
FrontCounter BC Customer Satisfaction Survey
Labour Market Agreement for Persons with Disabilities Outcome Survey
Legal Services Society 2017 Work Environment Survey

Long Term Disability (LTD) Application Process Survey
Ministry of Finance Revenue Services Client Satisfaction Survey 2016/2017
Office of the Auditor General 2017 Work Environment Survey

SDSI LMAPD Monthly Survey 2016-17
Service BC Citizen Satisfaction Survey 2016/2017
Service BC Registries and Online Services Survey

You can read more about any of these by visiting our Current and Recent Surveys page.



Did You Know
79% of Canadian families will end up spending an average of almost $600 on spring break activities for their children. And B.C. families will spend an average of $913, more than any other province.
Source: Ipsos Canada



Headlines
The unemployment rate decreased 0.5% in February.

In 2015, workers in B.C. businesses earned 4.5% more in wages, salaries and benefits over 2014.

B.C. exports jumped 25.8% in January compared to January 2016.