Edition: March 16-20, 2020
Resources
News by Sector
Economy
Government Operations
Multiculturalism
Services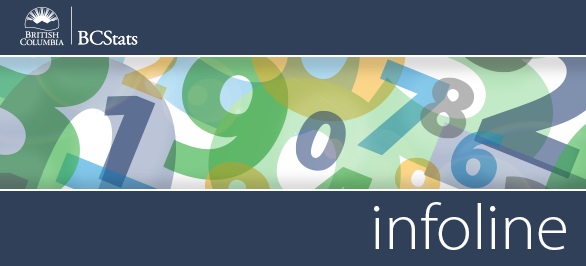 Infoline Highlights for the Week of March 16-20

Retail Sales - Retail sales in British Columbia (seasonally adjusted) remained virtually unchanged in January compared to December. There was a widespread decline among most sectors, led by clothing and clothing accessory stores and general merchandise stores.
Read more >>
Price of New Housing - The cost of new housing in B.C. went up by 0.4% between January and February. Prices in Kelowna fell 0.2% in the month, while prices in Vancouver (+0.4%) and Victoria (+1.0%) increased compared to the previous month.
Read more >>
Quarterly Population Highlights - The population of B.C. was estimated at 5,110,917 as of January 1, 2020, growing by 5,341 persons in the fourth quarter of 2019 (up 0.10% from October 1, 2019). Combined net in-migration from all sources (inter-provincial and international) totalled 4,817 persons during the fourth quarter of 2019, up 20% from the same quarter in 2018.
Read more >>
Consumer Price Index - British Columbia's consumer price index (CPI) was 2.4% higher (unadjusted) in February 2020 than in the same month of 2019. On a monthly basis, the CPI rose 0.6% from January 2020. The overall annual inflation rate dropped to 1.9% when food and energy were excluded from the index.
Read more >>
Manufacturing Sales - B.C. manufacturing sales (seasonally adjusted) went down by 5.1% in January compared to December, led by decreases in paper (-11.6%) and transportation equipment (‑11.5%) manufacturing. Notable gains were observed in fabricated metal product (+8.2%), furniture and related product (+6.9%), and beverage and tobacco products (+3.8%) manufacturing.
Read more >>




Current Surveys
B.C. Electric Vehicle Market Research Survey



BC Hydro Workforce Profile Survey
BC Public Service Exit Survey
BC Public Service New Job Survey

BC Smoking Cessation Program




BC Student Outcomes Survey of Apprenticeship and Trades Training Students




BC Student Outcomes Survey of Diploma, Associate Degree and Certificate Students

K-12 School Food Survey

Liquor Distribution Branch Work Environment Survey

Workforce Development Agreement Outcomes

Workforce Development Agreement Employer Outcomes



You can read more about any of these by visiting our Current Surveys page.



Did You Know
Over two-thirds (67%) of Canadians support deploying a nation-wide diabetes strategy, called Diabetes 360, that addresses risk reduction, screening and treatment of the disease. B.C. (72%) and the Atlantic provinces (74%) had the most support for the initiative.

Source: Ipsos Canada


Headlines
The price of new housing rose in Vancouver and Victoria between January and February.

B.C.'s population grew in the last quarter of 2019.

B.C.'s rate of inflation was higher in February than February 2019.