Edition: March 18-22, 2019
Resources
News by Sector
Economy
Government Operations
Multiculturalism
Services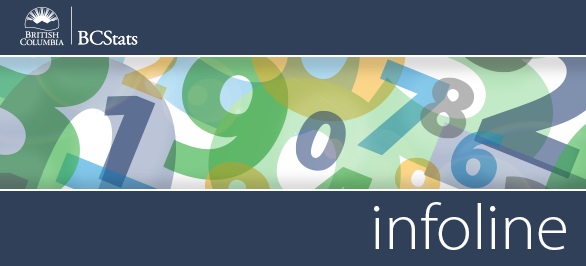 Infoline Highlights: Coverage for the week of March 11-15

Consumer Price Index - British Columbia's consumer price index (CPI) was 2.2% higher (unadjusted) in February 2019 than in the same month of 2018. On a monthly basis, the rate of inflation rose 0.5% from January 2019.
Read more >>
Wholesale Sales - Wholesale sales in the province inched up 0.2% (seasonally adjusted) in January. Nationally, wholesalers saw a modest 0.6% increase in sales with gains in seven provinces.
Read more >>
Visitor Entries - Visitor entries to B.C. from the U.S. and overseas were up (+2.4%, seasonally adjusted) in January. Entries from overseas sources jumped 5.5%, and travel to B.C. from the U.S. was also on the rise (+1.4%).
Read more >>
Employment Insurance -The number of regular Employment Insurance (EI) recipients in B.C. climbed (+1.6% seasonally adjusted) to 39,530 in January, resulting from an increase in the number of both male (+1.8%) and female (+1.4%) beneficiaries.
Read more >>
Quarterly Population Highlights - The population of B.C. was estimated at 5,020,302 as of January 1, 2019, growing by 3,980 persons in the fourth quarter of 2018 (up 0.08% from October 1, 2018). Combined net in-migration from all sources (inter-provincial and international) totalled 3,253 persons during the fourth quarter of 2018
Read more >>
Food Services and Drinking Places - Revenues generated in British Columbia's food services and drinking places industry dipped 1.2% (seasonally adjusted) in January. Nationally, industry receipts were also down (-1.0%), with Quebec (-2.5%), Alberta (-1.6%) and B.C. being responsible for much of the decrease.
Read more >>


Respondents from STEM programs tended to earn higher incomes than those from non-STEM programs. Find out more at BC Student Outcomes: http://outcomes.bcstats.gov.bc.ca
Follow @BCStats on Twitter


Current Surveys
BC Council on Admissions & Transfer Survey of Mobile Students



BC Hydro Workforce Profile Survey
BC Public Service Exit Survey
BC Public Service New Job Survey
BC Student Outcomes Survey of Apprenticeship and Trades Training Students


BC Student Outcomes Survey of Diploma, Associate Degree and Certificate Students

CABRO Diversity

Canada-BC Job Grant Outcomes Survey
Diversity and Inclusion Survey

FrontCounter BC Customer Satisfaction Survey
Labour Market Agreement for Persons with Disabilities Outcomes Survey


Long Term Disability (LTD) Application Process Survey

New Entrants to Agriculture

School District No. 22 (Vernon) Employee Engagement



You can read more about any of these by visiting our Current and Recent Surveys page.



Did You Know
To date, 85% of B.C.'s 1.6 million homeowners have filed their speculation and vacancy tax declaration ahead of the March 31st deadline.
Source: CBC


Headlines
The consumer price index in B.C. increased in February from February 2018.

B.C.'s population grew between October 1, 2018 and January 1, 2019.

More British Columbians collected employment insurance in January than in December.