Edition: March 19, 2018
Resources
News by Sector
Economy
Government Operations
Multiculturalism
Services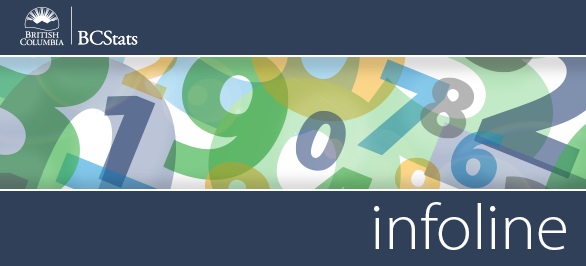 Infoline Highlights: Coverage for the week of March 12 - 16

Small Business Quarterly - The new Small Business Quarterly edition was released last week, including the article titled A Profile of the Manufacturing Industry in British Columbia.
Read more >>
Canada Income Survey, 2016 - According to the after-tax low income measure (LIM-AT), 12.9% of British Columbians lived in low income in 2016, below the Canadian average of 13.0% of people living in low-income.
Read more >>
Manufacturing Sales - B.C. manufacturing sales (seasonally adjusted) went down by 1.1% in January compared to December, led by decreases in non-metallic mineral products (‑11.5%) and wood products (‑9.8%) manufacturing.
Read more >>



@BCStats on Twitter
B.C.'s small business count in December 2017 was 190,400, an increase of 1.2% from a year earlier. Learn more from the newly released Small Business Quarterly.

Follow @BCStats on Twitter


Current Surveys
BC Hydro Workforce Profile Survey
BC Public Service Exit Survey
BC Student Outcomes Survey of Apprenticeship and Trades Training Students
BC Student Outcomes Survey of Diploma, Associate Degree and Certificate Students
Canada-BC Job Grant Outcomes Survey
Community Gaming Grants Survey
FrontCounter BC Customer Satisfaction Survey
New Job Survey
Social Development and Poverty Reduction (SDPR) LMAPD Monthly Survey
The College of New Caledonia Work Environment Survey
U-Pass BC Survey
You can read more about any of these by visiting our Current and Recent Surveys page.



Did You Know
Operating revenue for the real estate agents and brokers industry in British Columbia grew by 28.2% in 2016 to $2.7 billion. British Columbia has the second highest revenue in this industry among provinces and territories behind only Ontario. The profit margin for real estate agents and brokers also went up in 2016, reaching 42.8% compared to 37.3% in 2015.
Source: Statistics Canada


Headlines
B.C. has the largest share of small businesses in the manufacturing industry among Canadian provinces.

The proportion of British Columbians living in low-income fell in 2016 compared to the prior year.




B.C. manufacturing sales (seasonally adjusted) fell in January compared to December.