Edition: March 2-6, 2020
Resources
News by Sector
Economy
Government Operations
Multiculturalism
Services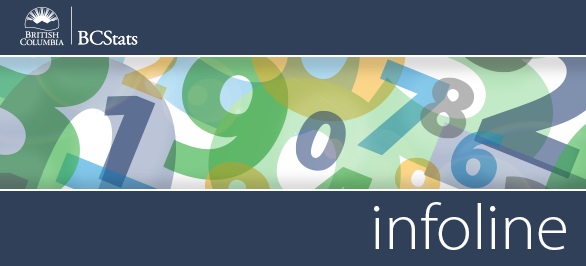 Infoline Highlights for the Week of March 2-6

Exports - The value of BC origin exports dropped 15.1% in January compared to the same month a year earlier. Exports declined to most major destinations, including the United States (-6.3%), Mainland China (-16.7%), South Korea (-43.8%), the European Union (-53.9%), India (-52.2%) and Taiwan (-8.4%).
Read more >>
Labour Force Survey - The unemployment rate in British Columbia was 5.0% in February, up 0.5 percentage points from January and 0.4 percentage points higher than 12 months ago. Overall in February, the labour force grew (+9,300), while the number of jobs decreased (‑6,500).
Read more >>
Criminal Court Timelines - The Supreme Court's R. v Jordan decision in 2016 imposed new presumptive time limits for completing cases in criminal court: 18 months for cases tried in provincial court, and 30 months for cases tried in superior court or following a preliminary inquiry. Statistics Canada has created a new set of indicators on court workload and cases processing trends.
Read more >>
New: BC Provincial Housing Market Visualization Platform - Introducing the BC Provincial Housing Market Visualization Platform, a tool that offers British Columbians the opportunity to interact with B.C.'s housing data and use it to make informed decisions. The Province of British Columbia and other agencies collect a wealth of housing and housing market data as part of their regulatory and administrative authorities.
Read more >>




Current Surveys
B.C. Electric Vehicle Market Research Survey



BC Hydro Workforce Profile Survey
BC Public Service Exit Survey
BC Public Service New Job Survey

BC Smoking Cessation Program




BC Student Outcomes Survey of Apprenticeship and Trades Training Students




BC Student Outcomes Survey of Diploma, Associate Degree and Certificate Students

CABRO Diversity


K-12 School Food Survey

Liquor Distribution Branch Work Environment Survey

Workforce Development Agreement Outcomes

Workforce Development Agreement Employer Outcomes



You can read more about any of these by visiting our Current Surveys page.



Did You Know
According to a survey conducted on behalf of MNP LTD, 18% of Canadians feel that they will never be out of debt in their lifetimes, with people from the Atlantic provinces and Ontario being most likely to believe this, and those from B.C. and Quebec the least likely to feel this way.

Source: Ipsos


Headlines
The value of B.C.'s exports fell in January from January 2019.

The unemployment rate in B.C rose in February from the month before.

A new B.C. housing market visualization tool launched, allowing users to interact with provincial housing data.