Edition: March 20, 2017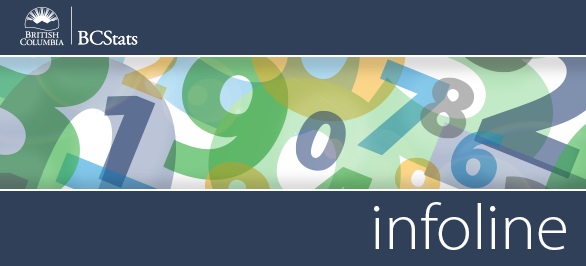 Infoline Highlights: Coverage for the week of March 13 - 17

Manufacturing Sales - Sales by B.C. manufacturers edged down (-0.3%, seasonally adjusted) in January, adding to a 1.6% slip recorded in December. A slight increase in shipments by producers of non-durable goods (+0.1%) was not enough to offset a slump in the durables sector (-0.5%).
Read more >>
Head Offices - There were 2,724 head offices in Canada in 2015, down (-1.3%) from 2,759 one year prior. At the same time, B.C. saw its count slip 1.9% between 2014 and 2015 (from 313 to 307).
Read more >>
Building Permits - The value of building permits issued by B.C. municipalities jumped 19.5% (seasonally adjusted) in January as planned spending on both residential (+14.2%) and non-residential (+35.7%) projects climbed. Building intentions for institutional and governmental buildings led the decline (+45.4%), but commercial (+33.5%) and industrial (+32.3%) permits were also up.
Read more >>




Current Surveys
Apprenticeship Student Outcomes (APPSO) Survey
Baccalaureate Graduate Survey
BC Hydro Workforce Profile Survey
BC Public Service Exit Survey
Canada-BC Job Grant Outcomes Survey
Diploma, Associate Degree, and Certificate Student Outcomes (DACSO) Survey
FrontCounter BC Customer Satisfaction Survey
Labour Market Agreement for Persons with Disabilities Outcome Survey
Legal Services Society 2017 Work Environment Survey

Long Term Disability (LTD) Application Process Survey
Ministry of Finance Revenue Services Client Satisfaction Survey 2016/2017
Office of the Auditor General 2017 Work Environment Survey

SDSI LMAPD Monthly Survey 2016-17
You can read more about any of these by visiting our Current and Recent Surveys page.



Did You Know
Canadians reported that they have as their mother tongue or home language almost 200 different languages; 80% of Canadians say that either English or French is their native language.
Source: Statistics Canada



Headlines
Manufacturing sales dipped slightly in January.

B.C. housed 11% of Canada's head offices in 2015.

The value of building permits in B.C. rose in January.