Edition: March 21, 2016
Resources
Top News by Sector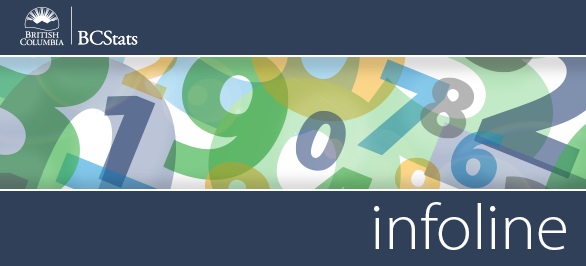 Infoline Highlights: Coverage for the week of March 14 - 18

Population - The population of B.C. was estimated at 4,707,021 as of January 1, 2016, growing by 3,082 persons in the fourth quarter of 2015 (up 0.07% from October 1, 2015).
Read more >>
Consumer Price Index - British Columbia's consumer price index (CPI) climbed 1.6% (unadjusted) in February, compared to the same month of the previous year. This marks a decline in the year-over-year rate of inflation since January, when it was 2.3%.
Read more >>

Wholesale Sales - British Columbia's wholesalers saw sales in the province rise 2.8% (seasonally adjusted) to $5.5 billion in January.
Read more >>
Manufacturing Sales - Manufacturers in British Columbia saw sales climb 0.7% (seasonally adjusted) in January, marking the fourth consecutive monthly increase.
Read more >>

Visitor Entries - Visitor entries to Canada via B.C. rose 1.6% (seasonally adjusted) in January, on the heels of a similar increase in December (+2.0%).
Read more >>
Cancer Incidence - There were a total of 22,245 new cases of cancer diagnosed in British Columbia in 2013, a 5.7% decline compared to the previous year, making for a rate of 485 per 100,000 population.
Read more >>


@BCStats on Twitter
B.C. gas prices decreased 9.4% in February, a break for drivers after increases in both December and January.
Follow @BCStats on Twitter


Current Surveys
Apprenticeship Student Outcomes (APPSO) Survey
Baccalaureate Graduate Survey
BC Hydro Workforce Profile Survey
BC Labour Market Agreement Outcomes Survey
BC Public Service Exit Survey
Canada-BC Job Grant Outcomes Survey

Diploma, Associate Degree, and Certificate Student Outcomes (DACSO) Survey
FrontCounter BC Customer Satisfaction Survey
HealthLink BC Survey 2016
Long Term Disability (LTD) Application Process Survey

Service BC Call Centre Customer Survey

You can read more about any of these by visiting our
Current and Recent Surveys
page.


Headlines
Population of B.C. estimated at 4,707,021 as of January 1, 2016

B.C.'s annual inflation rate climbs to 1.6% in February

22,245 new cases of cancer diagnosed in the province in 2013, down 5.7% over previous year


Did You Know
Canada will see a dramatic boost in the number of refugees it plans to resettle this year to 55,800, up from a target of 24,800 in 2015.
Source: The Globe and Mail