Edition: March 23-27, 2020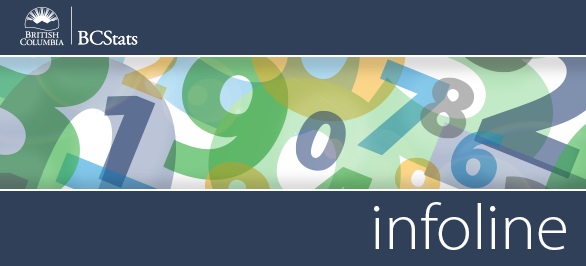 Infoline Highlights for the Week of March 23-27

Average Weekly Earnings - Average weekly earnings of payroll employees in British Columbia started the year on a high note, climbing $12.71 (+1.3%) to $1,027.23 (seasonally adjusted) in January. Nationally, average weekly earnings stood at $1,050.59, an increase of $6.40 (+0.6%) from December.
Read more >>
Wholesale Sales - Sales by wholesalers (seasonally adjusted) in British Columbia grew by 1.3% in January compared to the previous month, to reach $6.4 billion. The monthly increase was led by building material and supplies merchant wholesales (+7.3%).
Read more >>
Visitor Entries - In January, B.C. welcomed over 694 thousand non-resident travellers (seasonally adjusted), of which 72.7% were from the United States. Non-resident traveller entries to Canada through British Columbia went down (‑4.7%) compared to the previous month.
Read more >>




Current Surveys
B.C. Electric Vehicle Market Research Survey



BC Hydro Workforce Profile Survey
BC Public Service Exit Survey
BC Public Service New Job Survey

BC Smoking Cessation Program




BC Student Outcomes Survey of Apprenticeship and Trades Training Students




BC Student Outcomes Survey of Diploma, Associate Degree and Certificate Students

K-12 School Food Survey

Liquor Distribution Branch Work Environment Survey

Workforce Development Agreement Outcomes

Workforce Development Agreement Employer Outcomes



You can read more about any of these by visiting our Current Surveys page.



Did You Know
In mid-March, Canadians in six provinces said that health care was the biggest issue facing their provincial governments, although those respondents differed on how successful their governments were at managing that task. While the majority of people in B.C. (58%) and Saskatchewan (56%) said they thought their provincial governments were doing a "good job", only 17% of Nova Scotians agreed with that statement.

Source: Angus Reid Institute


Headlines
Average weekly earnings in B.C. increased between January 2019 and January 2020.

B.C.'s wholesale sales increased in January from the month before.

Fewer people entered Canada through B.C. in January than in December.