Edition: March 25-29, 2019
Resources
News by Sector
Economy
Government Operations
Multiculturalism
Services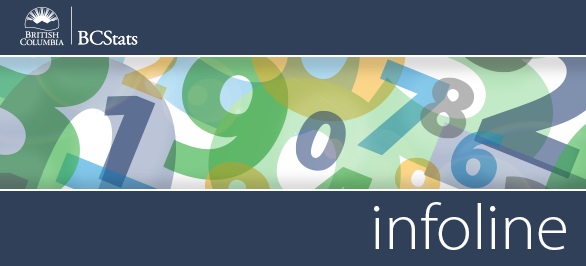 Infoline Highlights: Coverage for the week of March 25-29

Sub-provincial Total Net Migration - B.C.'s population was estimated at 4,991,687 on July 1, 2018 – an increase of over 69,500 persons, up 1.4% from July 1, 2017. All regional districts saw an increase in population except for the districts of Stikine (-1.3%), Northern Rockies (-0.7%) and North Coast (-0.2%).
Read more >>
Gross Domestic Product - Canada's economy expanded in January, with real GDP climbing 0.3% (seasonally adjusted) from the previous month, offsetting declines recorded in November and December 2018. The goods sector climbed 0.6%, as a nine-month-long period of weakness in the sector came to an end.
Read more >>
Industrial Product Price Index - Canadian manufacturers' selling prices were 1.2% higher in February than in the same month of 2018. The increase was mostly attributable to climbing prices for motorized and recreational vehicles (+3.1%), primary ferrous metal products (+11.4%) and pulp and paper products (+7.2%).
Read more >>
Exports - The value of B.C. origin exports climbed 6.8% in January compared to the same month a year earlier. Shipments increased to most major destinations, including the United States (+8.4%), Mainland China (+41.6%), the European Union (+11.6%) and India (+10.9%).
Read more >>
Building Investments - Total investment in building construction in B.C. continued to climb in January, jumping 4.3% (seasonally adjusted) from December, to $2.7 billion. Investment in non-residential building construction in the province increased (+3.9% to $614 million) in January, as spending on new buildings was up in the industrial (+1.6%), institutional (+3.9%) and commercial (+4.4%) sectors.
Read more >>
Retail Sales - Sales by retailers in the province climbed 1.5% (seasonally adjusted) in January, due in large part to strength in sales at motor vehicle and parts dealers. Canadian sales inched down 0.3%, marking the third consecutive month of decreases.
Read more >>


Retailers in B.C. saw an increase in sales for January, one of three provinces to see retail sales rise from December.

Follow @BCStats on Twitter


Current Surveys
BC Council on Admissions & Transfer Survey of Mobile Students



BC Hydro Workforce Profile Survey
BC Public Service Exit Survey
BC Public Service New Job Survey
BC Student Outcomes Survey of Apprenticeship and Trades Training Students


BC Student Outcomes Survey of Diploma, Associate Degree and Certificate Students

CABRO Diversity

Canada-BC Job Grant Outcomes Survey
Diversity and Inclusion Survey

FrontCounter BC Customer Satisfaction Survey
Labour Market Agreement for Persons with Disabilities Outcomes Survey


Long Term Disability (LTD) Application Process Survey

New Entrants to Agriculture

School District No. 22 (Vernon) Employee Engagement



You can read more about any of these by visiting our Current and Recent Surveys page.



Did You Know
Transborder traffic between the U.S. and Canada rose 1.5% in January over January 2018, with B.C.'s Vancouver International airport seeing the largest increase.
Source: Statistics Canada


Headlines
B.C.'s rural areas are losing population to migration or experiencing slower growth.

Lumber exports fell in January compared to January 2018.

Building investment in B.C. rose in January from December.