Edition: March 26, 2018
Resources
News by Sector
Economy
Government Operations
Multiculturalism
Services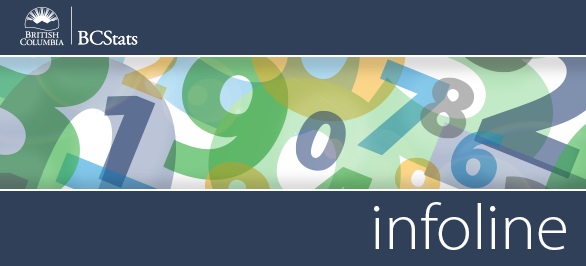 Infoline Highlights: Coverage for the week of March 19 - 23

Consumer Price Index- British Columbia's consumer price index (CPI) rose 2.8% (unadjusted) in February compared to the same month of the previous year. The year-over-year rate of inflation was up 0.7% from January.
Read more >>
Retail Sales- Retail sales in British Columbia (seasonally adjusted) fell by 1.0% in January compared to December.
Read more >>
Wholesale Sales- Sales by wholesalers (seasonally adjusted) in British Columbia went up in January to reach $6.7 billion, a 1.4% increase compared to the previous month.
Read more >>
Food Services & Drinking Places - Revenues generated in British Columbia's food service and drinking places industry went down by 0.4% (seasonally adjusted) in January. Sales were lower in all industry sub‑types, with the largest decrease in full-service restaurants receipts.
Read more >>
Employment Insurance - The number of people receiving employment insurance (EI) benefits in British Columbia decreased by 620 (‑1.3%) in January compared to December, to reach 45,630 individuals.
Read more >>



@BCStats on Twitter
The overall cost of food climbed 2.0% over the same month a year ago, both for the price of groceries (+1.5%) as well as the cost of meals purchased from restaurants (+2.8%).

Follow @BCStats on Twitter


Current Surveys
BC Hydro Workforce Profile Survey
BC Public Service Exit Survey
BC Student Outcomes Survey of Apprenticeship and Trades Training Students
BC Student Outcomes Survey of Diploma, Associate Degree and Certificate Students
Canada-BC Job Grant Outcomes Survey
Community Gaming Grants Survey
FrontCounter BC Customer Satisfaction Survey
New Job Survey
Social Development and Poverty Reduction (SDPR) LMAPD Monthly Survey
Survey on Skills, Competencies and Characteristics for Future Workforce
The College of New Caledonia Work Environment Survey
U-Pass BC Survey
You can read more about any of these by visiting our Current and Recent Surveys page.



Did You Know
In 2014/2015, B.C. spent $2,688.80 per capita on all levels of education combined, down 1.2% from 2013/2014. This is slightly below the Canadian average of $2,951.90 in the same period.
Source: Statistics Canada


Headlines
British Columbia's consumer price index rose in February compared to the same month the previous year.

British Columbia's retail sales fell in January compared to December, while wholesale sales went up in the month.




Food services and drinking places' revenues in British Columbia fell in January compared to the previous month.