Edition: March 27, 2017
Resources
News by Sector
Economy
Government Operations
Multiculturalism
Services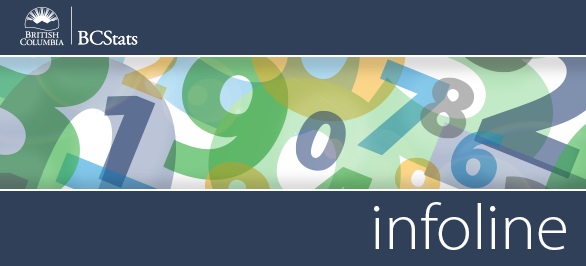 Infoline Highlights: Coverage for the week of March 20 - 24

Consumer Price Index - British Columbia's consumer price index (CPI) climbed 2.3% (unadjusted) in February compared to the same month of the previous year, which is the same year-over-year rate of inflation measured in January.
Read more >>
Diabetes - There were a reported 245,400 British Columbians aged 12 or older living with diabetes in 2015. This equates to 6.1% of the population in this age group, slightly lower than the rate for Canadians overall (6.9%).
Read more >>
Quarterly Population Highlights - The population of B.C. was estimated at 4,777,157 as of January 1, 2017, growing by 3,812 persons in the last quarter of 2016 (up 0.08% from October 1, 2016). Combined net in-migration from all sources (inter-provincial and international) totalled 2,632 persons during the fourth quarter of 2016, the largest fourth quarter net migration in the last five years.
Read more >>
Employment Insurance - The number of regular Employment Insurance (EI) recipients in B.C. was relatively unchanged (+0.0%, seasonally adjusted) at 55,340 in January. An increase in the number of male beneficiaries (+1.0%) was offset by a decline among female recipients (-1.5%). , adding to a 1.6% slip recorded in December. .
Read more >>
Retail Sales- Retail sales in British Columbia climbed at a slightly faster pace (+2.9% in January, seasonally adjusted) than the nation as a whole, which saw sales climb 2.2%.
Read more >>
B.C. Small Business Quarterly, 4th Quarter 2016 - The number of small businesses in British Columbia (excluding self-employed persons) in December of 2016 was 188,057, up 1.9% from a year earlier. In the fourth quarter of 2016, new business incorporations jumped 10.8% from the level recorded in the same quarter of 2015.
Read more >>
Wholesale Sales - Wholesale sales in B.C. rose 0.8% (seasonally adjusted) in January, marking the fourth straight monthly increase.
Read more >>
Visitor Entries - Visitor entries to B.C. from the U.S. and overseas was unchanged (+0.0%, seasonally adjusted) for the second straight month in January. While entries from overseas sources jumped 3.6%, travel to B.C. from the U.S. slowed (-1.3%).
Read more >>


@BCStats on Twitter
Gas prices in B.C. increased significantly (+19.7%) in February since February 2016.

Follow @BCStats on Twitter


Current Surveys
Apprenticeship Student Outcomes (APPSO) Survey
Baccalaureate Graduate Survey
BC Hydro Workforce Profile Survey
BC Public Service Exit Survey
Canada-BC Job Grant Outcomes Survey
Diploma, Associate Degree, and Certificate Student Outcomes (DACSO) Survey
FrontCounter BC Customer Satisfaction Survey
Labour Market Agreement for Persons with Disabilities Outcome Survey
Legal Services Society 2017 Work Environment Survey

Long Term Disability (LTD) Application Process Survey
SDSI LMAPD Monthly Survey 2016-17
Transportation Investment Corporation 2017 Work Environment Survey

You can read more about any of these by visiting our Current and Recent Surveys page.



Did You Know
Canadians reported that convenience is the most important consideration when they are deciding what to have for dinner, ahead of taste and health.
Source: Ipsos Canada



Headlines
B.C.'s CPI rose in February compared to the same month in 2016.

B.C.'s population grew slightly the last quarter of 2016B.C.

The number of British Columbians receiving EI benefits remained unchanged in January.