Edition:
Resources
Top News by Sector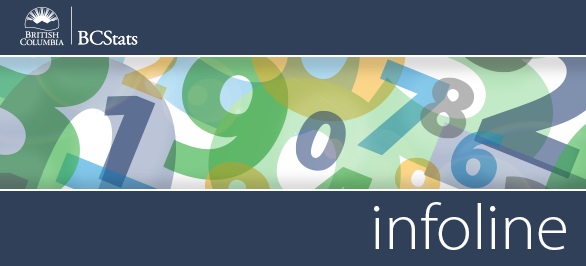 Infoline Highlights: Coverage for the week of March 21 - 24

Employment Insurance - The number of British Columbians receiving regular employment insurance (EI) benefits climbed (+2.5% seasonally adjusted) to 27,560 in January.
Read more >>
Retail Sales - Sales by retailers in the province rose 2.3% (seasonally adjusted) in January, following a somewhat disappointing performance in December (-1.9%).
Read more >>

Energy Use -British Columbia households used 173 million gigajoules of energy on heating, cooling, lighting, cooking and many other functions in 2013, slightly more (+1.3%) than in 2011.
Read more >>
Correctional Services - In 2014/2015, approximately 24,200 adults were admitted to some form of custody in British Columbia. In the same year, 199,100 individuals were incarcerated nationally (admitted to some form of custodial supervision in Canada's jails).
Read more >>





Current Surveys
Apprenticeship Student Outcomes (APPSO) Survey
Baccalaureate Graduate Survey
BC Hydro Workforce Profile Survey
BC Labour Market Agreement Outcomes Survey
BC Public Service Exit Survey
Canada-BC Job Grant Outcomes Survey

Diploma, Associate Degree, and Certificate Student Outcomes (DACSO) Survey
FrontCounter BC Customer Satisfaction Survey
HealthLink BC Survey 2016
Long Term Disability (LTD) Application Process Survey

Service BC Call Centre Customer Survey

You can read more about any of these by visiting our
Current and Recent Surveys
page.


Did You Know
B.C. travellers are more likely to never leave home without their electronics (60%) than without travel insurance (53%).
Source: Ipsos Canada


Headlines
Number of employment insurance recipients in B.C. climbs 2.5% in January

Retail sales in the province rebound in January (+2.3%)

The average B.C. household used slightly less (-1.2%) energy in 2013 than in 2011