Edition: March 30-April 3, 2020
Resources
News by Sector
Economy
Government Operations
Multiculturalism
Services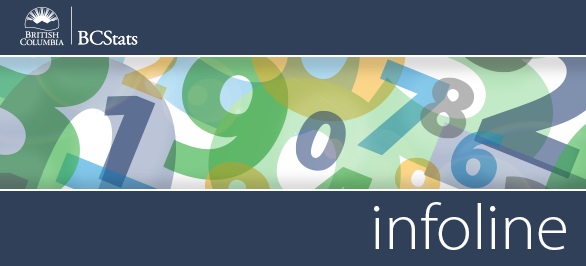 Infoline Highlights for the Week of March 30-April 3

Index of Remoteness - Statistics Canada in collaboration with Indigenous Services Canada has developed a new set of data to add to its set of geospatial and experimental indicators called the index of remoteness. The index of remoteness measures the distance that separates a community from all population centers within a given radius, accounting for the population size of these centers.
Read more >>
Exports - Year-to-date to February, the value of B.C. origin commodity exports fell 15.6% as the COVID-19 pandemic started to impact trade, particularly overseas. While shipments to the United States fell 7.7%, that was fairly modest compared to some of the declines elsewhere.
Read more >>
Food Services and Drinking Places - Revenues generated in British Columbia's food service and drinking places industry fell by 2.1% (seasonally adjusted) in January compared to December, led by lower sales in full-service restaurants. Sales for the month were down in all establishment categories.
Read more >>
Capital Expenditure on Infrastructure - In British Columbia capital expenditure in infrastructure was just under $10.9 billion in 2018. Public organizations accounted for 74.7% of total infrastructure spending, slightly lower than the Canadian average of 77.0%. Private sector organizations were responsible for 25.3% of infrastructure spending in British Columbia in 2018.
Read more >>
Industrial Product Price Index - Canadian manufacturers' selling prices fell 0.3% in February, compared to the same month a year earlier. Lower prices for energy and petroleum products (-3.0%) were the major contributor for the overall price decrease in February.
Read more >>




Current Surveys
B.C. Electric Vehicle Market Research Survey



BC Hydro Workforce Profile Survey
BC Public Service Exit Survey
BC Public Service New Job Survey

BC Smoking Cessation Program




BC Student Outcomes Survey of Apprenticeship and Trades Training Students




BC Student Outcomes Survey of Diploma, Associate Degree and Certificate Students

K-12 School Food Survey

Liquor Distribution Branch Work Environment Survey

Workforce Development Agreement Outcomes

Workforce Development Agreement Employer Outcomes



You can read more about any of these by visiting our Current Surveys page.



Did You Know
As Covid-19 continues to spread in Canada, communities are assessing their local healthcare systems' ability to handle it. People in Ontario have the least amount of faith (47%) in their local health infrastructure; Quebec (69%), British Columbia (61%) and Alberta (61%) are more confident.

Source: Angus Reid Institute


Headlines
B.C.'s exports fell in the first two months of 2020 compared to the same period in 2019.

Food and drink revenues in B.C. were lower in January than December.

The largest amount of B.C.'s infrastructire spending, both public and private, went to transportation.