Edition: March 4-8, 2019
Resources
News by Sector
Economy
Government Operations
Multiculturalism
Services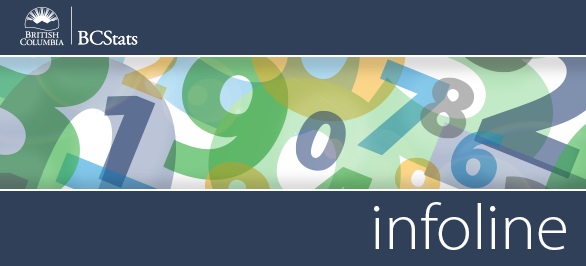 Infoline Highlights: Coverage for the week of March 4-8

Labour Force Statistics -The unemployment rate in British Columbia was 4.5% in February, down 0.2 percentage points from January and down 0.2 percentage points from 12 months ago. The labour force (+300) remained stable, while the number of jobs (+3,600) increased from January.
Read more >>
Building Permits - The value of building permits decreased 24.3% (seasonally adjusted) in January from the previous month. There were decreases in permits for commercial (‑54.9%), institutional (‑53.1%), industrial (‑30.7%), and residential (‑4.3%) projects.
Read more >>
Exports - The value of B.C. origin exports increased 7.3% from 2017 to 2018. There was a rise in exports to most of B.C.'s major trading partners, including the United States (+2.3%), Mainland China (+5.8%), Japan (+13.0%), South Korea (+2.2%), the European Union (+18.1%), India (+51.2%) and Taiwan (+37.5%).
Read more >>


The value of B.C.'s building permits dropped 24.3% in January from December, although Victoria's permits increased 19.4% over that period.

Follow @BCStats on Twitter


Current Surveys
BC Council on Admissions & Transfer Survey of Mobile Students



BC Hydro Workforce Profile Survey
BC Public Service Exit Survey
BC Public Service New Job Survey
BC Student Outcomes Survey of Apprenticeship and Trades Training Students


BC Student Outcomes Survey of Diploma, Associate Degree and Certificate Students

CABRO Diversity

Canada-BC Job Grant Outcomes Survey
Diversity and Inclusion Survey

FrontCounter BC Customer Satisfaction Survey
Labour Market Agreement for Persons with Disabilities Outcomes Survey


Long Term Disability (LTD) Application Process Survey

New Entrants to Agriculture

School District No. 22 (Vernon) Employee Engagement



You can read more about any of these by visiting our Current and Recent Surveys page.



Did You Know
Canadian families and individuals reported an after-tax median income of $59,800 in 2017. At $62,100, British Columbia had the third highest median income, behind Alberta ($70,300) and Ontario ($62,700).
Statistics Canada


Headlines
February saw a dip in B.C.'s unemployment rate.

The value of B.C.'s building permits dropped in January over the month before.

B.C.'s exports increased between 2017 and 2018.