Edition: March 5, 2018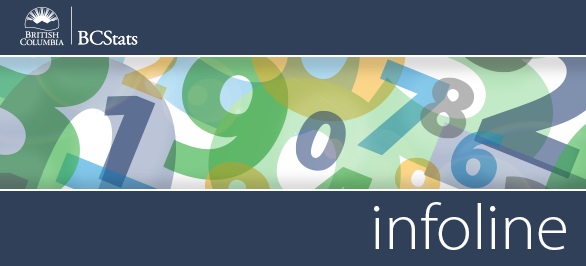 Infoline Highlights: Coverage for the week of February 26 to March 2

Tourism Room Revenues - For British Columbia, room revenues rose during the month of December.
Read more >>
Industrial Product Price Index - The price of raw materials purchased by Canadian manufacturers rose 7.7% in January compared to January the previous year, mainly due to higher prices for crude energy products (+12.9%).
Read more >>
Bankruptcies- In 2017, 4,146 consumers filed for bankruptcy in British Columbia, down 12.1% from the year before. Business bankruptcies fell 21.5% in 2017, to reach 117 filings.
Read more >>



@BCStats on Twitter
Canadian manufacturers' selling prices increased 2.0% in January over the same month the year before, due in part to rising prices for energy and petroleum products.

Follow @BCStats on Twitter


Current Surveys
BC Hydro Workforce Profile Survey
BC Public Service Exit Survey
BC Student Outcomes Survey of Apprenticeship and Trades Training Students
BC Student Outcomes Survey of Diploma, Associate Degree and Certificate Students
Canada-BC Job Grant Outcomes Survey
Community Gaming Grants Survey
FrontCounter BC Customer Satisfaction Survey
New Job Survey
Social Development and Poverty Reduction (SDPR) LMAPD Monthly Survey
The College of New Caledonia Work Environment Survey
U-Pass BC Survey
You can read more about any of these by visiting our Current and Recent Surveys page.



Did You Know
British Columbia's private and public capital expenditures on non-residential construction and machinery and equipment are anticipated to rise 1.2% to $32.2 billion in 2018, following a 20.9% increase in 2017.
Source: Statistics Canada


Headlines
Room revenues rose during the month of December in all tourism regions of British Columbia.

Canadian manufacturers' selling prices climbed in January, compared to the same month a year earlier.

Both business and consumer bankruptcy filings went down in British Columbia during 2017 compared to 2016.