Edition: March 6, 2017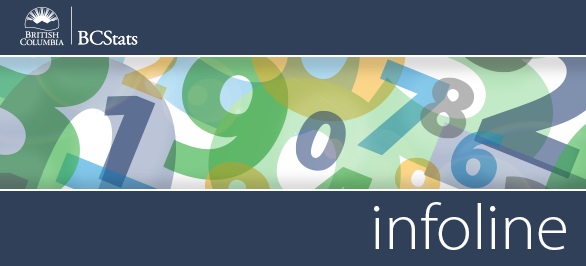 Infoline Highlights: Coverage for the week of February 27 - March 3

Visitor Entries - Traveller entries to B.C. from the U.S. and overseas edged up 0.3% (seasonally adjusted) in December as entries from countries other than the U.S. picked up significantly (+1.4%).
Read more >>
Bankruptcies - There were 324 bankruptcies filed by consumers in British Columbia in December, a 19.6% decline from the same month of 2015. Conversely, the number of business bankruptcies was notably higher (+33.3% to 20).
Read more >>
Food Services and Drinking Places - Receipts at the province's food services and drinking places ended the year on a high note, climbing 0.6% (seasonally adjusted) in December.
Read more >>
Industrial Product Price Index (IPPI) - Prices for Canadian manufactured goods were 2.3% higher in January compared to the same month of 2016.
Read more >>
Gross Domestic Product (GDP) - Canadian real GDP by industry at basic prices (seasonally adjusted) increased 0.3% in December. During the last half of 2016, GDP expanded in every month except October.
Read more >>
Cancer Incidence - There were a total of 22,100 new cases of cancer diagnosed in British Columbia in 2014, a 7.7% decline compared to the previous year, making for a rate of 476 per 100,000 population. The rate for new cancer cases among men in the province decreased 9.9%, to 494, whereas the rate among women dropped 7.6%, to 458 per 100,000 population.
Read more >>
Charitable Donations - Approximately 699,780 British Columbian taxpayers made a charitable donation during the 2015 tax year, a 0.7% increase over the previous year. This accounts for roughly 20% of B.C.'s total number of taxfilers, only slightly below the national average (21%).
Read more >>


@BCStats on Twitter
Consumer bankruptcies in B.C. dipped 19.6% in December from December of 2015.

Follow @BCStats on Twitter


Current Surveys
Apprenticeship Student Outcomes (APPSO) Survey
Baccalaureate Graduate Survey
BC Hydro Workforce Profile Survey
BC Public Service Exit Survey
Canada-BC Job Grant Outcomes Survey
Diploma, Associate Degree, and Certificate Student Outcomes (DACSO) Survey
FrontCounter BC Customer Satisfaction Survey
Labour Market Agreement for Persons with Disabilities Outcome Survey
Legal Services Society 2017 Work Environment Survey

Long Term Disability (LTD) Application Process Survey
Ministry of Finance Revenue Services Client Satisfaction Survey 2016/2017
Office of the Auditor General 2017 Work Environment Survey

SDSI LMAPD Monthly Survey 2016-17
Service BC Citizen Satisfaction Survey 2016/2017
Service BC Registries and Online Services Survey

You can read more about any of these by visiting our Current and Recent Surveys page.



Did You Know
86% of British Columbians agree that land owners have a moral obligation to not harm endangered plants and animals on their property.
Source: Ipsos Canada



Headlines
The number of international visitors to B.C. jumped 10.8% in 2016.

Canadian GDP climbed 0.3% in December.

Nearly 700,000 British Columbians made a charitable donation in 2015.