Edition: March 9-13, 2020
Resources
News by Sector
Economy
Government Operations
Multiculturalism
Services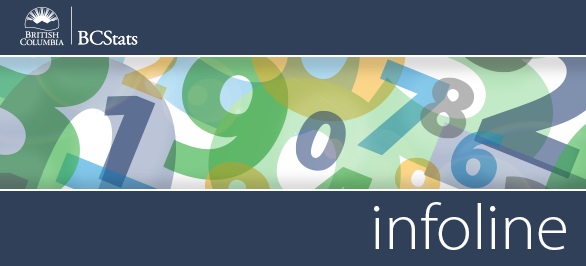 Infoline Highlights for the Week of March 9-13

MLS Home Sales - The number of home sales (+26.3%) and the value of home sales (+41.4%) in B.C. grew in February compared to the same month last year. Unit sales grew in most areas of B.C. to reach 5,741 units, led by the Greater Vancouver (+44.5%) and Fraser Valley (+36.0%) regions.
Read more >>
Bankruptcies - In January 2020, there was a decrease of 17.4% in overall bankruptcies in British Columbia compared to January 2019. Of the 289 bankruptcies, 7 were filed by businesses, down from 10 business bankruptcies registered in January last year. Consumer bankruptcies also fell (-17.1%) in January, compared to the same month a year earlier.
Read more >>
Housing Starts - Housing starts in urban areas (areas with population of at least 10,000) in British Columbia grew by 55.9% (seasonally adjusted at annual rates) in February compared to January, the third largest increase among provinces for the month. The gain was spread across British Columbia's census metropolitan areas (CMAs), except for Abbotsford-Mission (-9.0%), which registered fewer starts.
Read more >>
Building Permits - The value of building permits (seasonally adjusted) issued by B.C. municipalities grew by 52.1% in January compared to December, the third consecutive monthly increase. The gains were concentrated in Vancouver (+81.8%), the only census metropolitan area in the province to register an increase in the month.
Read more >>




Current Surveys
B.C. Electric Vehicle Market Research Survey



BC Hydro Workforce Profile Survey
BC Public Service Exit Survey
BC Public Service New Job Survey

BC Smoking Cessation Program




BC Student Outcomes Survey of Apprenticeship and Trades Training Students




BC Student Outcomes Survey of Diploma, Associate Degree and Certificate Students

K-12 School Food Survey

Liquor Distribution Branch Work Environment Survey

Workforce Development Agreement Outcomes

Workforce Development Agreement Employer Outcomes



You can read more about any of these by visiting our Current Surveys page.



Did You Know
Many journeypersons (skilled trade/craft workers who have completed an official apprenticeship qualification) from both Alberta and Saskatchewan migrated to B.C. in search of work when falling oil prices in 2014 resulted in job losses in their provinces, with this number increasing 66% between 2014 and 2017.

Source: Statistics Canada


Headlines
Both the volume and value of B.C.'s home sales rose in February from the same month in 2019.

Bankruptcy filings in B.C. slowed between January and January 2019.

B.C.'s building permits jumped in value between December and January.