Edition: May 11-15, 2020
Resources
News by Sector
Economy
Government Operations
Multiculturalism
Services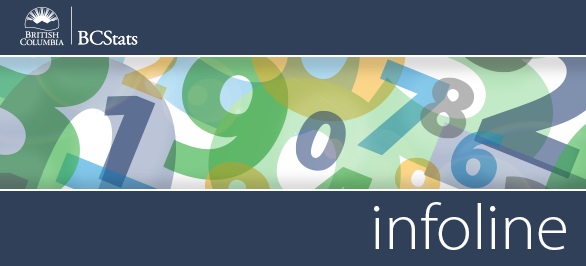 Infoline Highlights for the Week of May 11-15

MLS Home Sales - COVID-19 directives for social distancing greatly reduced real estate activity in British Columbia in April. There were 3,284 residential units sold in British Columbia, a decrease of 50.8% compared to April 2019.
Read more >>
Manufacturing Sales - B.C. manufacturing sales (seasonally adjusted) decreased by 0.6% in March compared to February. The reduction in sales was widespread across most industries, with the largest declines in transportation equipment (-18.1%) and non-metallic mineral products (-14.7%) manufacturing.
Read more >>
Travel Statistics - Restrictions imposed on travel and other health recommendations issued by provincial and federal authorities to stop the spread of COVID-19 had a large impact on domestic and international travel in British Columbia in March. Aviation activity in the Vancouver International Airport fell in March, with both cargo and passenger movements falling significantly in the month.
Read more >>
Housing Starts - Housing starts in urban areas (areas with population of at least 10,000) in British Columbia went down by 9.7% (seasonally adjusted at annual rates) in April compared to March, ranking fourth among provinces. Declines were registered in both multiple-family (-9.7%) and single-detached (-9.6%) housing units in the month.
Read more >>
Bankruptcies - There were 326 bankruptcies filed by consumers in British Columbia in March, a slight (-5.0%) decrease from the same month of 2019. Meanwhile, the number of business bankruptcies was notably lower, falling 37.5% to five.
Read more >>




Current Surveys
BC Hydro Workforce Profile Survey
BC Public Service Exit Survey
BC Public Service New Job Survey

BC Student Outcomes Survey of Apprenticeship and Trades Training Students




BC Student Outcomes Survey of Diploma, Associate Degree and Certificate Students

Workforce Development Agreement Outcomes

Workforce Development Agreement Employer Outcomes



You can read more about any of these by visiting our Current Surveys page.



Did You Know
Covid-19 has affected auto insurance in a number of ways. In the week of March 29 to April 4, ICBC had 8,952 fewer crash claims than the same period in 2019, a 55% drop. However, since March 8 theyhave also had 103,712 insurance cancellations, up 53% from 2019. #covid19
Source: Global BC


Headlines
Home sales in B.C. dropped substantially in April from the same month in 2019.

Manufacturing sales in B.C. were down between February and March.

There were fewer consumer bankruptcies filed in March than March 2019.





Covid-19
BC Stats is working to produce data and information that helps government, business and public decision-makers understand the social and economic impacts of COVID-19.