Edition: May 11, 2015 Issue 15-15
Resources
Top News by Sector


Issue 15-15: Highlights
Labour Force- In April, employment in B.C. was down by 28,700 jobs, with 18,000 people exiting the labour force.

The Economy - British Columbia's economy grew 2.6% (GDP at basic prices, in chained 2007 dollars) in 2014 after posting a 2.1% increase in the previous year.
Trade - B.C. origin exports climbed 4.1% in the first quarter of 2015, compared to the same three-month period a year earlier.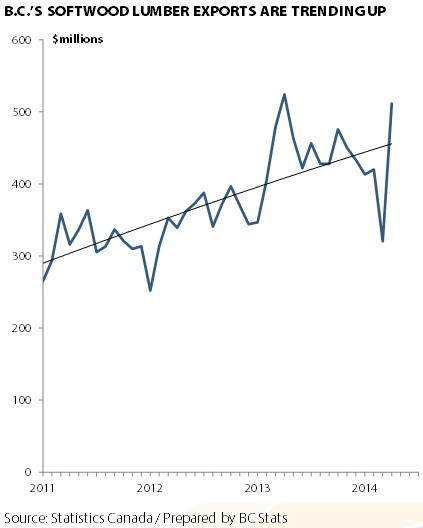 Liquor Sales - Domestic wine is gaining an increasingly strong foothold in the B.C. wine market.


Current Surveys
Apprenticeship Student Outcomes (APPSO) Survey
Baccalaureate Graduate Survey
BC Assessment 2015 Employee Engagement Survey
BC Hydro Workforce Profile Survey
BC International Student Survey
BC Labour Market Agreement Outcomes Survey
BC Public Service Exit Survey
Diploma, Associate Degree, and Certificate Student Outcomes (DACSO) Survey
FrontCounter BC Customer Satisfaction Survey
Long Term Disability (LTD) Application Process Survey
You can read more about any of these by visiting our Current and Recent Surveys page.