Edition: May 13-17, 2019
Resources
News by Sector
Economy
Government Operations
Multiculturalism
Services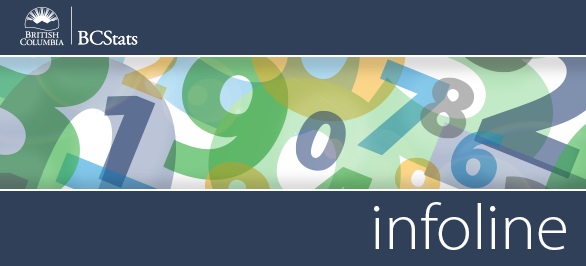 Infoline Highlights: Coverage for the week of May 13-17

Manufacturing Sales - Sales of goods manufactured in British Columbia climbed 3.8% (seasonally adjusted) in March, rebounding from a 1.7% loss in the previous month. Producers of durable products (+8.0%) saw sales climb after an uneasy February (-7.0%). Sales of wood (+7.1%), machinery (+10.1%) and primary metals (+12.8%) were among those to climb notably.
Read more >>
Consumer Price Index - British Columbia's consumer price index (CPI) was 2.7% higher (unadjusted) in April 2019 than in the same month of 2018. On a monthly basis, the rate of inflation rose 0.4% from March 2019. The overall annual inflation rate increases by 2.4% when food and energy are excluded from the index.
Read more >>
Building Permits - The value of building permits increased 12.8% or $180 million (seasonally adjusted) in March from the previous month. There were increases in permits for institutional (+69.0%), industrial (+12.3%), commercial (+11.1%), and residential (+6.4%) buildings. The value of permits was higher in Vancouver (+22.8%), where most of the province's building activity occurs, as well as in Kelowna (+64.1%) and Victoria (+45.7%), while the value of permits was lower in Abbotsford-Mission (‑46.9%).
Read more >>




Current Surveys
BC Council on Admissions & Transfer Survey of Mobile Students



BC Hydro Workforce Profile Survey
BC Public Service Exit Survey
BC Public Service New Job Survey
BC Student Outcomes Survey of Apprenticeship and Trades Training Students


BC Student Outcomes Survey of Diploma, Associate Degree and Certificate Students

Canada-BC Job Grant Outcomes Survey
FrontCounter BC Customer Satisfaction Survey
Labour Market Agreement for Persons with Disabilities Outcomes Survey


Long Term Disability (LTD) Application Process Survey
You can read more about any of these by visiting our Current and Recent Surveys page.



Did You Know
Over 8 in 10 Canadians (82%) feel that prescription drugs should be covered for everyone regardless of their medical insurance, with 43% saying they strongly agree. At 57%, British Columbians feel the most strongly; Albertans were the least likely to agree with it (34%).
Source: Ipsos Canada


Headlines
Manufacturing sales in B.C. jumped up in March over February.

B.C.'s consumer price index increased in April over April 2018.

The value of B.C.'s building permits in March were higher than the month before.