Edition: May 19-22, 2020
Resources
News by Sector
Economy
Government Operations
Multiculturalism
Services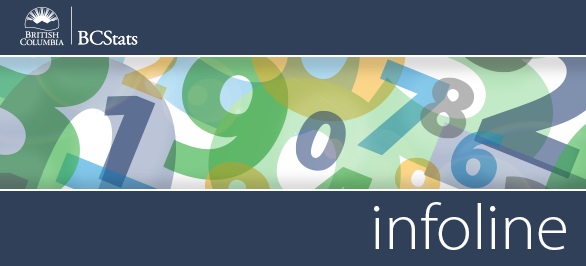 Infoline Highlights for the Week of May 19-22

Retail Sales - In the wake of COVID-19, sales by retailers in British Columbia slowed 4.6% (seasonally adjusted) between February and March, as a two-month-long upturn came to an end. Canadian sales plummeted 10.0%, similar to the decline observed in the United States (-7.1%).
Read more >>
Visitor Entries - International visitor entries to Canada through B.C. came to a near halt in the latter part of March, the result of government-imposed travel restrictions and border closings due to COVID-19. Overall travel to B.C. was down 58.2% (seasonally adjusted) in March compared to February, as the number of visitors from the U.S. was more than cut in half (-59.2%).
Read more >>
Price of New Housing - The cost of new housing in B.C. remained unchanged between April and March. Prices were virtually unchanged for both land and buildings in the province as a whole, and in each census metropolitan area reported.
Read more >>
Consumer Price Index - British Columbia's consumer price index (CPI) in April 2020 was the same (unadjusted) as in April 2019. On a monthly basis, the CPI fell 0.8% from March 2020.
Read more >>
Wholesale Sales - Sales by wholesalers (seasonally adjusted) in British Columbia went down in March to reach $6.2 billion, a 3.6% decrease compared to the previous month, the largest decline among provinces. The monthly decline was led by motor vehicle and motor vehicle parts and accessories wholesales (-18.0%).
Read more >>
High Technology Profile- British Columbia's high technology sector continued to grow in 2018, with GDP in the sector increasing 3.1%, to around $17.4 billion. Both the high tech manufacturing (+2.7%) and services (+3.1%) sectors recorded an increase in GDP. About 6.5% of B.C.'s total GDP is generated by the high technology sector.
Read more >>
High Technology Occupations - While it is generally acknowledged that the high technology sector is important to B.C.'s economic growth, the types of occupations found in the sector as well as occupation structure is less known. By establishing a definition of high technology occupations, it becomes more feasible to monitor the impacts high technology has on B.C.'s economy.
Read more >>
Multifactor Productivity - Multifactor productivity is a measure of how efficiently inputs are used in the production process. Increases in productivity are typically associated with economies of scale, organizational structures improvements and technological advancements.
Read more >>




Current Surveys
BC Hydro Workforce Profile Survey
BC Public Service Exit Survey
BC Public Service New Job Survey

BC Student Outcomes Survey of Apprenticeship and Trades Training Students




BC Student Outcomes Survey of Diploma, Associate Degree and Certificate Students

HealthLink BC 2020 Work Environment Survey

School District #62 (Sooke) 2020 Work Environment Survey




Workforce Development Agreement Outcomes

Workforce Development Agreement Employer Outcomes



You can read more about any of these by visiting our Current Surveys page.



Did You Know
The agreement to close the border between Canada and the U.S. is set to expire on June 21. Only 18% of people in B.C. say they want it to re-open at that point, with 39% hoping the agreement will be extended until September, and the rest (43%) saying the border should remain closed until the end of the year or beyond.
Source: Angus Reid


Headlines
Retail sales in B.C. slowed between February and March.

Travel to B.C. decreased significantly in March, both from the U.S. and overseas.

The consumer price index was the same in April as it was in April 2019.





Covid-19
BC Stats is working to produce data and information that helps government, business and public decision-makers understand the social and economic impacts of COVID-19.