Edition: May 2, 2016
Resources
Top News by Sector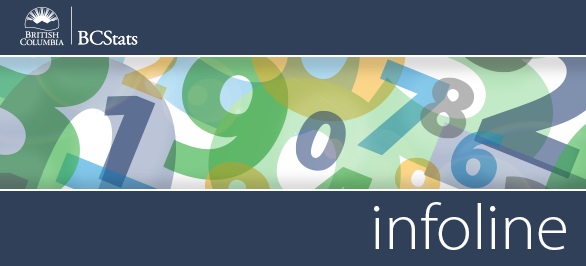 Infoline Highlights: Coverage for the week of April 25-29

Bankruptcies - The number of bankruptcies registered by B.C. consumers (-10.9%) dropped in February of 2016 from the same period a year prior, while the number of business bankruptcies were up (+10.0%).
Read more >>
Industrial Product Price Index - Canadian manufacturers' prices declined 2.1% in March compared to the same month in 2015.
Read more >>

Food Services and Drinking Places - February receipts at food services and drinking places in B.C. were down 0.9% (seasonally adjusted), following two months of solid gains. Despite the decline in February, sales were substantially higher than in the same month last year (+6.3%).
Read more >>
Liquor Sales - Domestic beers are reasserting their dominance in the B.C. beer market, likely due to the increasing popularity of local craft beer and microbreweries.
Read more >>

Crime - The Royal Canadian Mounted Police's National DNA Data Bank, established in 2000, contains 445,521 DNA profiles.
Read more >>



@BCStats on Twitter
The number of bankruptcies filed in B.C.were down substantially in 2015.


Current Surveys
Agricultural Land Commission Work Environment Survey 2016

Apprenticeship Student Outcomes (APPSO) Survey
Baccalaureate Graduate Survey
BC Hydro Workforce Profile Survey
BC Labour Market Agreement Outcomes Survey
BC Public Service Exit Survey
Canada-BC Job Grant Outcomes Survey

Diploma, Associate Degree, and Certificate Student Outcomes (DACSO) Survey
FrontCounter BC Customer Satisfaction Survey
Long Term Disability (LTD) Application Process Survey

West Vancouver Police Department Work Environment Survey 2016

You can read more about any of these by visiting our
Current and Recent Surveys
page.




Headlines
Both consumer (-10.4%) and business (-23.0%) bankruptcies in the province were lower in 2015 than in 2014.

Prices for Canadian raw materials declined 9.7% in March 2016 over March 2015.

Receipts at food services and drinking places in B.C. were down 0.9% in February.