Edition: May 20-24, 2019
Resources
News by Sector
Economy
Government Operations
Multiculturalism
Services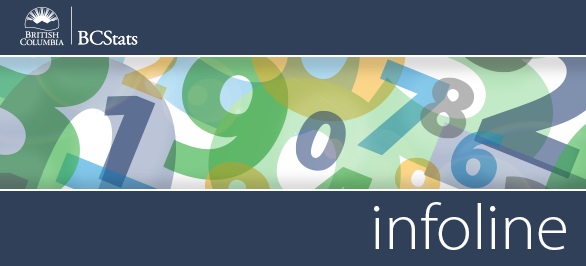 Infoline Highlights: Coverage for the week of May 20-24

Employment Benefits - There were 26,040 British Columbians receiving regular employment insurance (EI) benefits in March, 2.6% more (seasonally adjusted) than the previous month. Among B.C.'s metropolitan areas, Abbotsford-Mission (-3.8%), Victoria (-3.2%) and Vancouver (-0.3%) recorded declines, while the number of beneficiaries in Kelowna was up (+4.7%).
Read more >>
Wholesale Sales - Wholesale sales in the province increased 2.9% (seasonally adjusted) in March, on the strength of the building, materials and supplies (+6.5%) and machinery, equipment and supplies (+6.3%) subsectors. The rise in sales marked the first increase of 2019 and mirrored a similar slip (-2.7%) recorded in February.
Read more >>
Retail Sales - Retail sales in B.C. climbed 0.7% to $7.3 billion (seasonally adjusted) between February and March, largely reversing a 1.0% decline recorded in the previous month. Compared to March of last year, retail activity in the province was up more notably (+1.2%). Nationally, retail sales were also slightly higher in March (+1.1% to $51.3 billion).
Read more >>
Visitor Entries - In March, B.C. welcomed nearly 729 thousand non-resident travellers (seasonally adjusted), of which three-quarters (74%) were from the United States. Total non-resident traveller entries to Canada through British Columbia were up 9.2% in March, as entries from the United States jumped 12.6%. At the same time, the number of travellers from the rest of the world also increased (+0.6%)
Read more >>





Current Surveys
BC Assessment Employee Engagement


BC Council on Admissions & Transfer Survey of Mobile Students



BC Hydro Workforce Profile Survey
BC Public Service Exit Survey
BC Public Service New Job Survey
BC Student Outcomes Survey of Apprenticeship and Trades Training Students


BC Student Outcomes Survey of Diploma, Associate Degree and Certificate Students

Canada-BC Job Grant Outcomes Survey
FrontCounter BC Customer Satisfaction Survey
Labour Market Agreement for Persons with Disabilities Outcomes Survey


Long Term Disability (LTD) Application Process Survey

OPCC Work Environment

WES Pulse Check

You can read more about any of these by visiting our Current and Recent Surveys page.



Did You Know
Sales of clean-energy vehicles (CEVs) in B.C. surged this month, partly due to the availability of several government incentives as well as record-high gas prices. Even so, CEV vehicle sales are on the rise – they accounted for 6% of light duty vehicles sales in the first quarter of 2019, compared to 4% in 2018, and 1% in 2017..
Source: Vancouver Sun


Headlines
More people in B.C. received employment benefits in March than the month before.

Wholesale sales in B.C. increased in March over February.

The province's retail sales increased in March over March 2018.