Edition: May 22, 2018
Resources
News by Sector
Economy
Government Operations
Multiculturalism
Services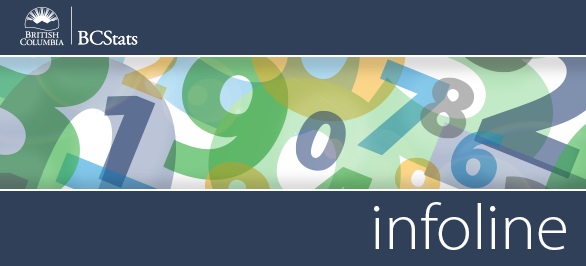 Infoline Highlights: Coverage for the week of May 14 - May 18

Consumer Price Index (CPI) - British Columbia's consumer price index (CPI) rose 2.7% (unadjusted) in April compared to the same month of the previous year. According to Statistics Canada, the overall annual inflation rate increases to 2.8% when food is excluded from the index, but declines to 2.4% when energy is excluded.
Read more >>
Retail Sales - Retail sales in British Columbia (seasonally adjusted) went up by 0.6% in March compared to February, led by higher sales at motor vehicle and parts dealers. All reported census metropolitan areas saw gains in the month, led by Vancouver (+2.4%).
Read more >>
Manufacturing Sales - B.C. manufacturing sales (seasonally adjusted) went up by 4.0% in March compared to February, led by an increase in wood product manufacturing (+11.2%).
Read more >>


@BCStats on Twitter
The cost of shelter in B.C. rose 3.8% in April, with both renters (+1.7%) and home owners (+4.7%) seeing higher prices.

Follow @BCStats on Twitter


Current Surveys
BC Apprenticeship Discontinuers Survey
BC Assessment Employee Engagement Pulse Survey

BC Hydro Workforce Profile Survey
BC Public Service Exit Survey
BC Student Outcomes Survey of Apprenticeship and Trades Training Students
BC Student Outcomes Survey of Diploma, Associate Degree and Certificate Students
Canada-BC Job Grant Outcomes Survey
FrontCounter BC Customer Satisfaction Survey
New Job Survey
School District #62 (Sooke) Work Environment Survey
Social Development and Poverty Reduction (SDPR) LMAPD Monthly Survey
Survey on Skills, Competencies and Characteristics for Future Workforce
You can read more about any of these by visiting our Current and Recent Surveys page.



Did You Know
Average rental costs in B.C. were $1,148 in 2016, the third highest among provinces and territories. Additionally, 21% of B.C. households spend more than half of their income in rental costs and utilities, the largest proportion in the country (tied with Ontario). Housing costs are considered affordable if they represent 30% or less of income.
Source: BC Non-Profit Housing Association


Headlines
British Columbia's consumer price index increased in April compared the same month last year.

Retail sales in British Columbia went up in March compared to February.

B.C. manufacturing sales went up in March compared to February.