Edition: May 25, 2016
Resources
Top News by Sector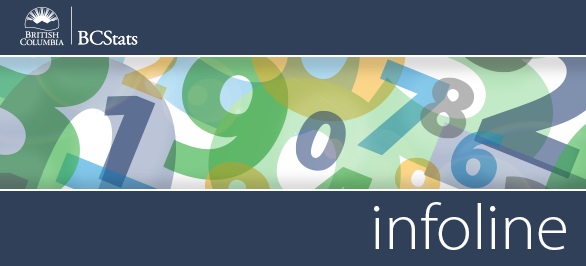 Infoline Highlights: Coverage for the week of May 16-20

Gross Domestic Product by Industry - British Columbia's economy expanded 3.0%1 in 2015, with the province leading all other regions in terms of economic growth for the first time since 1997 (the first year for which comparable data are available). Ontario (+2.5%), Northwest Territories (+2.5%) and Manitoba (+2.3%) also posted strong growth in 2015.
Read more >>
Manufacturing Sales - After a decline in February, sales of goods produced by British Columbia's manufacturers increased (+2.9%, seasonally adjusted) in the month of March. Strongest sales growth was exhibited by non-durable goods manufacturers (+6.9%), due largely in part to continued increase in shipments by food (+0.1%) and chemical manufacturers (+2.6%).
Read more >>

Visitor Entries - The number of non-resident travellers entering Canada through British Columbia's borders continued to climb (+0.8%, seasonally adjusted) in March. Compared to February, there was an increase (+2.9%) in the number of travellers from the United States entering British Columbia.
Read more >>

Wholesale Sales - Wholesale sales in British Columbia declined in March (-3.2%, seasonally adjusted) for a second consecutive month. In Canada as a whole, there was a decrease of 1.0%, with lower sales being recorded in five other provinces in addition to British Columbia. The largest gains in wholesale sales were reported in Quebec (+1.3%), while Saskatchewan experienced the largest decline (-4.1%).
Read more >>

Employment Insurance - In March, the number of Employment Insurance (EI) beneficiaries in British Columbia decreased (-1.0%, seasonally adjusted) to 52,300 individuals. The number of beneficiaries declined for both the 15 to 24 years (-3.5%) and the 25 to 54 years (-1.1%) age groups, but there was a slight uptick in the number of EI beneficiaries within the 55 years and over age group (+0.3%).
Read more >>

Retail Sales -Sales by British Columbia retailers fell 1.1% in March (seasonally adjusted), following two straight months of increases. A slowdown in sales at new car dealers and gasoline stations was the primary reason for the decline.
Read more >>

Consumer Price Index Highlights - British Columbia's consumer price index (CPI) climbed 1.8% (unadjusted) in April, compared to the same month of the previous year. This marks a slight uptick in the year-over-year rate of inflation since March, when it was 1.7%.
Read more >>


@BCStats on Twitter
Cost of fresh vegetables in BC up 9.4% year-over-year in April.


Current Surveys
Agricultural Land Commission Work Environment Survey 2016

Apprenticeship Student Outcomes (APPSO) Survey
Baccalaureate Graduate Survey
BC Hydro Workforce Profile Survey
BC Labour Market Agreement Outcomes Survey
BC Public Service Exit Survey
Canada-BC Job Grant Outcomes Survey

Diploma, Associate Degree, and Certificate Student Outcomes (DACSO) Survey
FrontCounter BC Customer Satisfaction Survey
Long Term Disability (LTD) Application Process Survey

West Vancouver Police Department Work Environment Survey 2016

You can read more about any of these by visiting our
Current and Recent Surveys
page.




Headlines
The cost of gasoline fell (-7.2%) in April, marking the third consecutive month in which gasoline prices fell.

The number of U.S.travelers entering B.C. rose 2.9% in March, but tourists from other countries fell 5.8%

In March, the number of EI beneficiaries in B.C. decreased (-1.0%, seasonally adjusted) to 52,300 individuals.