Edition: May 27-31, 2019
Resources
News by Sector
Economy
Government Operations
Multiculturalism
Services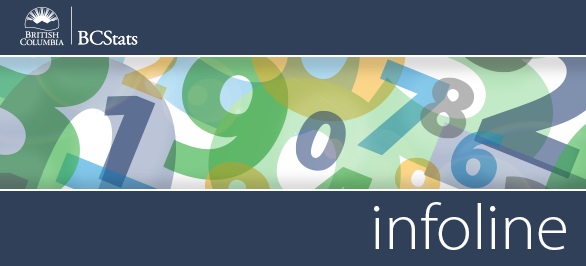 Infoline Highlights: Coverage for the week of May 27-31

Gross Domestic Product - Canadian real GDP by industry at basic prices advanced 0.5% in March, following a 0.2% decline in the previous month. The goods-producing industries expanded 0.7%. The increase in mining, quarrying, and oil & gas extraction (+2.0%), manufacturing (+0.9%) and construction (+0.5%) offset the decline in utilities (-1.8%) and agriculture, forestry, fishing & hunting (-0.3%).
Read more >>
Average Weekly Earnings - Average weekly earnings of payroll employees in British Columbia were $985.00 in March (seasonally adjusted, current dollars), $11.58 more than in the previous month (+1.2%). Nationally, employee wages averaged $1,016.41, a rise of 0.8% over February.
Read more >>
Food Services and Drinking Places - Receipts at food services and drinking places in B.C. were up 1.4% (seasonally adjusted) in March, more than rebounding from a slowdown recorded in February (-0.7%). Canadian establishments also saw receipts climb in March (+1.2%), as revenues were up in nine provinces, including Quebec (+1.0%) and Ontario (+0.9%).
Read more >>




Current Surveys
BC Assessment Employee Engagement


BC Council on Admissions & Transfer Survey of Mobile Students



BC Hydro Workforce Profile Survey
BC Public Service Exit Survey
BC Public Service New Job Survey
BC Student Outcomes Survey of Apprenticeship and Trades Training Students


BC Student Outcomes Survey of Diploma, Associate Degree and Certificate Students

Canada-BC Job Grant Outcomes Survey
FrontCounter BC Customer Satisfaction Survey
Labour Market Agreement for Persons with Disabilities Outcomes Survey


Long Term Disability (LTD) Application Process Survey

OPCC Work Environment

WES Pulse Check

Workforce Development Agreement Outcomes

Workforce Development Agreement Employer Outcomes



You can read more about any of these by visiting our Current and Recent Surveys page.



Did You Know
Affordable housing remains an issue across B.C. Three-quarters (74%) of British Columbians surveyed agree that 'home prices and rents remain high because there are too few housing options', a sentiment that was consistent in all areas of the province.
Source: Ipsos


Headlines
Canada's GDP rose in March over the month before.

B.C. payroll employees earned more in March than February

Food services and drinking places produced more revenues in March.