Edition: May 28, 2018
Resources
News by Sector
Economy
Government Operations
Multiculturalism
Services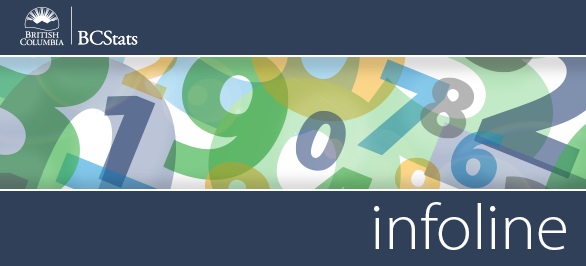 Infoline Highlights: Coverage for the week of May 21 - May 25

Employment Insurance - The number of people receiving employment insurance (EI) benefits in British Columbia decreased by 1,440 (‑3.2%) in March compared to February, to reach 43,610 individuals. The decrease was equally distributed between male (-720 persons or -2.7%) and female recipients (-720 persons or -4.0%).
Read more >>
Visitor Entries - In March, B.C. welcomed almost 692 thousand non-resident travellers (seasonally adjusted), of which three quarters were from the United States. Non-resident traveller entries to Canada through British Columbia went up by 1.6% compared to the previous month.
Read more >>
Wholesale Sales - Sales by wholesalers (seasonally adjusted) in British Columbia went down in March to reach $6.5 billion, a 0.1% decrease compared to the previous month. The monthly decrease was led by motor vehicle and parts (‑6.0%) and food, beverage and tobacco (-2.3%) wholesales.
Read more >>


@BCStats on Twitter
Sales by B.C. wholesalers (seasonally adjusted) dropped slightly (0.1%) in March compared to the previous month, although farm product wholesales increased 5.1%.

Follow @BCStats on Twitter


Current Surveys
BC Apprenticeship Discontinuers Survey
BC Assessment Employee Engagement Pulse Survey

BC Hydro Workforce Profile Survey
BC Public Service Exit Survey
BC Student Outcomes Survey of Apprenticeship and Trades Training Students
BC Student Outcomes Survey of Diploma, Associate Degree and Certificate Students
Canada-BC Job Grant Outcomes Survey
FrontCounter BC Customer Satisfaction Survey
New Job Survey
School District #62 (Sooke) Work Environment Survey
Social Development and Poverty Reduction (SDPR) LMAPD Monthly Survey
Survey on Skills, Competencies and Characteristics for Future Workforce
You can read more about any of these by visiting our Current and Recent Surveys page.



Did You Know
B.C.'s gas prices are the highest in Canada. They are currently hovering at an average of $148.6 per litre, significantly higher than Canada's average gas price of $134.9, and well above the lowest, Manitoba's $124.1. In particular, the Lower Mainland and Victoria are dealing with the highest gas costs on record anywhere in North America, due in part to limited refinery supplies, the weak dollar, and the price of carbon.
Source: CBC



Headlines
March saw a small drop in the number of people in B.C. receiving EI benefits.

Non-resident traveller entries to Canada through B.C. increased in March.

B.C.'s wholesale sales fell slightly in March.