Edition: May 7, 2018
Resources
News by Sector
Economy
Government Operations
Multiculturalism
Services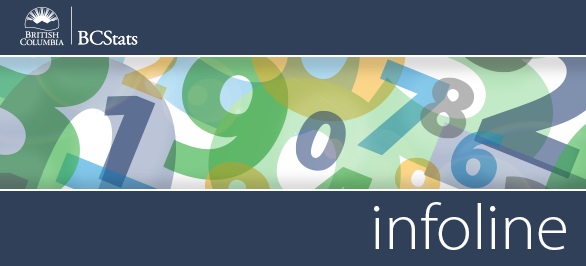 Infoline Highlights: Coverage for the week of April 30 - May 4

Exports -There was a 4.0% rise in the value of B.C.'s commodity exports from February to March. The main contributors to the overall increase were a 25.1% jump in shipments of metal ores and non-metallic minerals and a 4.7% increase in exports of forestry products and building and packaging materials.
Read more >>
Gross Domestic Product (GDP) - Canadian real GDP by industry at basic prices rose 0.4% in February, following a 0.1% drop in the previous month.
Read more >>
Tourism Room Revenues-Room revenues rose during the month of February for British Columbia. On a regional basis, the B.C. Rockies (+12.5%) and Vancouver, Coast and Mountains (+8.6%) tourism regions saw the largest revenue increases compared to twelve months ago.
Read more >>
Bankruptcies- In February 2018, there was an increase of 1.5% in overall bankruptcies in British Columbia compared to February 2017.
Read more >>
Industrial Product Price Index- Canadian manufacturers' selling prices climbed 2.3% in March, compared to the same month a year earlier. The price of raw materials purchased by Canadian manufacturers rose 10.0% in March compared to March the previous year.
Read more >>
Visitor Entries- In February, B.C. welcomed over 679 thousand non-resident travellers (seasonally adjusted), of which almost three quarters were from the United States.
Read more >>



@BCStats on Twitter
February saw a 1.5% increase in B.C.'s overall bankruptcies compared to February 2017, although business bankruptcies dropped from 16 (February 2017) to 11 (February 2018).

Follow @BCStats on Twitter


Current Surveys
BC Apprenticeship Discontinuers Survey
BC Assessment Employee Engagement Pulse Survey

BC Hydro Workforce Profile Survey
BC Public Service Exit Survey
BC Student Outcomes Survey of Apprenticeship and Trades Training Students
BC Student Outcomes Survey of Diploma, Associate Degree and Certificate Students
Canada-BC Job Grant Outcomes Survey
FrontCounter BC Customer Satisfaction Survey
New Job Survey
School District #62 (Sooke) Work Environment Survey
Social Development and Poverty Reduction (SDPR) LMAPD Monthly Survey
Survey on Skills, Competencies and Characteristics for Future Workforce
You can read more about any of these by visiting our Current and Recent Surveys page.



Did You Know
British Columbia saw an increase in labour productivity (real value added per hour worked) between 2015 and 2016. Mining and oil and gas extraction and non-profit institutions were the most productive sectors in the province in 2016.
Source: Statistics Canada


Headlines
B.C. exports inched up in the first quarter of 2018, compared to 2017.

Canadian real GDP by industry at basic prices rose in February.

For British Columbia, overall room revenues rose during the month of February.