Edition: May 9, 2016
Resources
Top News by Sector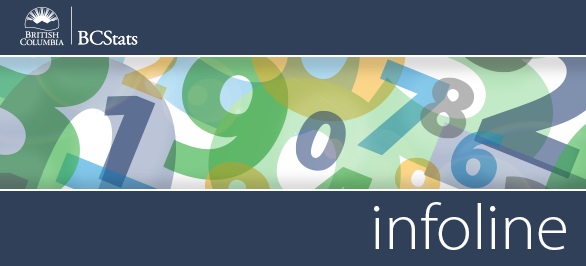 Infoline Highlights: Coverage for the week of May 2-6

Labour Force Statistics Highlights - The unemployment rate in British Columbia was 5.8% in April, down from 6.5% in March, as employment increased by 13,000, while the labour force contracted by 4,500. Compared to April 2015, the unemployment rate was down by 0.5 percentage points from 6.3%, with job creation (+110,400) outpacing growth in the labour force (+104,700).
Read more >>
Building Permits - The value of building permits issued by B.C. municipalities slipped 5.2% (seasonally adjusted) in March. Non-residential building permits were down substantially (-32.9%) with decreases in permits issued for the commercial (-29.0%), industrial (-39.7%) and institutional and government (-47.5%) sectors.
Read more >>

Exports - The value of B.C. origin exports rose 2.9% in the first quarter as a 9.5% jump in shipments to the United States and a 3.2% increase in exports to Mainland China offset declines to several other major destinations, including Japan (-12.8%), South Korea (‑1.1%), the European Union (-5.7%), Taiwan (-10.8%) and Hong Kong (-4.5%).
Read more >>
Gross Domestic Product (GDP) - Compared with an increase of 0.9% in January, the goods-producing industries edged down 0.6% in February, largely due to decreases in manufacturing (-0.8%) and mining, quarrying and oil and gas extraction (-0.8%). Construction (+0.1%) inched up, while agriculture, forestry, fishing and hunting (-1.3%) and utilities (-0.2%) declined.
Read more >>



@BCStats on Twitter
Year-to-date building permits surged 88.4% in Cariboo.


Current Surveys
Agricultural Land Commission Work Environment Survey 2016

Apprenticeship Student Outcomes (APPSO) Survey
Baccalaureate Graduate Survey
BC Hydro Workforce Profile Survey
BC Labour Market Agreement Outcomes Survey
BC Public Service Exit Survey
Canada-BC Job Grant Outcomes Survey

Diploma, Associate Degree, and Certificate Student Outcomes (DACSO) Survey
FrontCounter BC Customer Satisfaction Survey
Long Term Disability (LTD) Application Process Survey

West Vancouver Police Department Work Environment Survey 2016

You can read more about any of these by visiting our
Current and Recent Surveys
page.




Headlines
In March, employment in British Columbia for men (aged 25 years and over) increased by 7,100 jobs.

Solid wood product shipments jumped 14.8% in the first quarter.

The GDP for service-producing industries were essentially unchanged in February after four consecutive monthly increases.