Edition: May16, 2016
Resources
Top News by Sector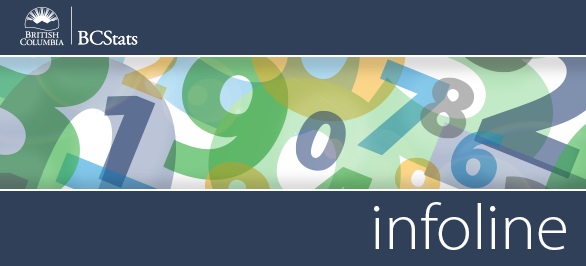 Infoline Highlights: Coverage for the week of May 9-13

Tourism Room Revenue - In 2015, room revenues continued to surge across most of British Columbia. On an annual basis, strongest growth in revenues occurred in The Islands tourism region (+21.3%), followed by Vancouver, Coast and Mountains (+15.8%) and the BC Rockies (+12.5%) tourism regions.
Read more >>
Crime Rates and Young Offenders - In 2014, young adults (aged 18 to 24) were far more likely to be accused of a crime in British Columbia than were either youth (aged 12 to 17) or older adults (aged 25 and older). Excluding traffic offences, the crime rate for young adults was 4,628 per 100,000 persons, well above the rate for youth (3,071) and more than double the rate for older adults (2,200).
Read more >>

New Housing Price index - British Columbia saw the New Housing Price Index (NHPI) rise 0.3% in March, the tenth consecutive month with an increase. The NHPI was 3.8% higher than in March 2015. The land component of the index was unchanged compared to both February 2016 and March 2015; the increase in the NHPI was due to climbing prices for the house component.
Read more >>


@BCStats on Twitter
March's New Housing Price Index (NHPI) in B.C. was 3.8% higher than March 2015.


Current Surveys
Agricultural Land Commission Work Environment Survey 2016

Apprenticeship Student Outcomes (APPSO) Survey
Baccalaureate Graduate Survey
BC Hydro Workforce Profile Survey
BC Labour Market Agreement Outcomes Survey
BC Public Service Exit Survey
Canada-BC Job Grant Outcomes Survey

Diploma, Associate Degree, and Certificate Student Outcomes (DACSO) Survey
FrontCounter BC Customer Satisfaction Survey
Long Term Disability (LTD) Application Process Survey

West Vancouver Police Department Work Environment Survey 2016

You can read more about any of these by visiting our
Current and Recent Surveys
page.




Headlines
Vancouver's NHPI was up 0.4% over February, and 4.2% compared to March 2015.

For youth, property crime was the most frequent offence, with 1,550 offenders per 100,000 persons.

With a drop of 12.3%, Northern BC was the only tourism region where room revenues fell in December of 2015 compared to the same time period in 2014.