Edition: May6-10, 2019
Resources
News by Sector
Economy
Government Operations
Multiculturalism
Services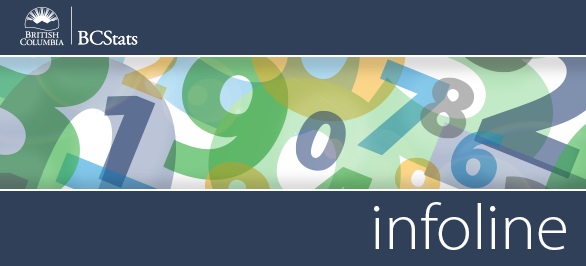 Infoline Highlights: Coverage for the week of May 6-10

Labour Force Statistics - The unemployment rate in British Columbia (for those aged 15 years and over) was 4.6% in April, down 0.1 percentage points from March and down 0.5 percentage points from 12 months ago. Both the labour force (+3,500) and the number of jobs (+5,900) increased from March.
Read more >>
Exports - The value of B.C. origin commodity exports climbed 2.1% in the first quarter of 2019 compared to the same three-month period a year earlier. There was fairly strong growth in shipments to the United States (+5.3%), Mainland China (+5.2%), the European Union (+13.6%), India (+61.2%) and Taiwan (+6.7). However, there were significant declines in exports to Japan (‑20.6%) and South Korea (-17.2%).
Read more >>
Price of New Housing - Relative to the same month of 2018, the cost of new housing in B.C.'s three largest cities declined in March 2019. Home builders in Vancouver received 0.5% less for their projects, and the housing price index was also down in Victoria (-0.4%) and Kelowna (-0.2%).
Read more >>




Current Surveys
BC Council on Admissions & Transfer Survey of Mobile Students



BC Hydro Workforce Profile Survey
BC Public Service Exit Survey
BC Public Service New Job Survey
BC Student Outcomes Survey of Apprenticeship and Trades Training Students


BC Student Outcomes Survey of Diploma, Associate Degree and Certificate Students

Canada-BC Job Grant Outcomes Survey
FrontCounter BC Customer Satisfaction Survey
Labour Market Agreement for Persons with Disabilities Outcomes Survey


Long Term Disability (LTD) Application Process Survey
You can read more about any of these by visiting our Current and Recent Surveys page.



Did You Know
Canadians reported being concerned about the future of health care in Canada, with British Columbia (48% positive, 41% negative) and Alberta (46% positive, 41% negative) being the only two provinces with outlooks that are more positive than negative.
Source: Ipsos Canada


Headlines
The unemployment rate in B.C. decreased in April from the month before.

The value of B.C.'s exports increased in the first quarter of 2019.

The cost of new housing in B.C.'s three largest cities declined between March 2019 and March 2018.