Edition: November 12-November 15, 2019
Resources
News by Sector
Economy
Government Operations
Multiculturalism
Services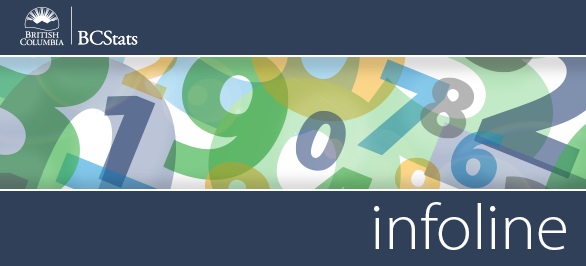 Infoline Highlights for the Week of November 12-15

Price of New Housing - Relative to the same month of 2018, the cost of new housing in B.C.'s three largest cities continued to decline in September. Home builders in Vancouver received 2.2% less for their projects, and prices were also down in Victoria (-1.2%) and Kelowna (-0.5%).
Read more >>
Building Permits - The value of building permits issued by B.C. municipalities was up 3.4% (seasonally adjusted) in September. The increase was due entirely to a jump in the value of permits for the non-residential (+63.4) sector, as residential projects dipped 17.2%.-
Read more >>





Current Surveys
Active Transportation Strategy Survey



BC Hydro Workforce Profile Survey
BC Public Service Exit Survey
BC Public Service New Job Survey

BC Student Outcomes Survey of Baccalaureate Graduates




BC Wildfire Service Auxiliary Work Environment

Capilano University Employee Engagement

City of Victoria Business Survey


Long Term Disability (LTD) Application Process Survey

OCIO ES Client Satisfaction Survey




Workforce Development Agreement Outcomes

Workforce Development Agreement Employer Outcomes



You can read more about any of these by visiting our Current Surveys page.



Did You Know
Registrations for zero-emissions vehicles in Canada has grown over 8,300% between 2011 and 2018, with almost all (97%) of these vehicles being registered in Ontario, Quebec and B.C., provinces where rebates have been offered. The number of zero-emissions vehicles registered in B.C. increased 162.0% between 2017 and 2018.
Source: Statistics Canada


Headlines
The price of new housing in B.C.'s three largest cities dipped in September from September 2018.

The value of B.C.'s building permits increased in September from the month before.