Edition: November 13, 2018
Resources
News by Sector
Economy
Government Operations
Multiculturalism
Services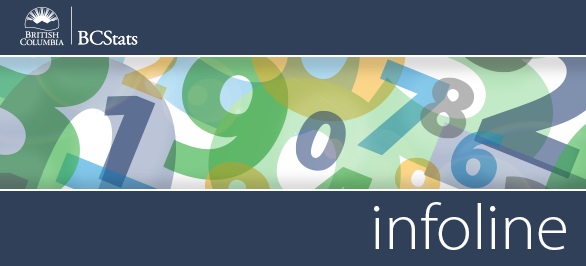 Infoline Highlights: Coverage for the week of November 5-9

Bankruptcies - The number of bankruptcies registered by B.C. businesses (+200.0%, from two to six filings) and consumers (+6.1%, from 312 to 331 filings) climbed in August from the same month last year.
Read more >>
Price of New Housing -The cost of new housing in the province's three largest cities was higher in September than in the same month last year. The 1.3% increase in Victoria was the result of a climb in both housing prices (+1.6%) and land value (+0.6%).
Read more >>
Building Permits -The value of building permits decreased 19.8% (seasonally adjusted) in September from the previous month. An increase in permits for institutional (+14.0%) buildings could not offset decreases for industrial (‑37.9%), commercial (‑32.5%), and residential (‑17.2%) projects.
Read more >>


@BCStats on Twitter
In September, the value of building permits fell in Vancouver (‑37.9%), Abbotsford-Mission (‑20.3%) and Kelowna (‑11.1%), but increased in Victoria (+90.7%).



Follow @BCStats on Twitter


Current Surveys
Baccalaureate Graduates Survey

BC Hydro Workforce Profile Survey
BC Public Service Exit Survey
BC Public Service New Job Survey

Canada-BC Job Grant Outcomes Survey
FrontCounter BC Customer Satisfaction Survey

Long Term Disability (LTD) Application Process Survey

OCIO Client Satisfaction Survey



Online Games Survey

School District #72 (Campbell River) Employee Engagement Survey



You can read more about any of these by visiting our Current and Recent Surveys page.



Did You Know
The number of deaths from illicit drug overdoses in B.C. jumped from 293 in 2012 to 639 in 2016 - almost double. Nearly three quarters of these deaths were men between the ages of 25 and 54.
Source: Statistics Canada



Headlines
Bankruptcy filings in B.C. increased in September over the same period the year before

The cost of new housing in B.C.'s three largest cities increased in September over the same month in 2017.

The value of bulding permits in B.C. fell in September.