Edition: November 14, 2016
Resources
News by Sector
Economy
Government Operations
Multiculturalism
Services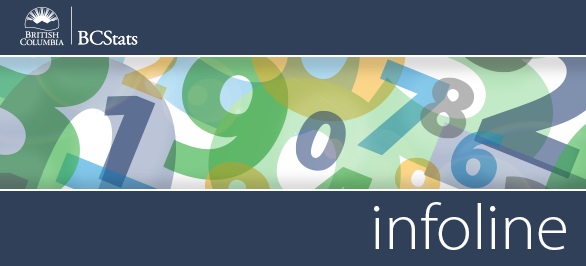 Infoline Highlights: Coverage for the week of November 7 - 11

Gross Domestic Product (GDP), Annual, 2015 - British Columbia's economy (chained GDP, in 2007 dollars) expanded 3.3% in 2015, posting the strongest growth among the provinces. Ontario (+2.5%), New Brunswick (+2.3%) and Manitoba (+2.2%) also made solid gains during the year.
Read more >>
Price of New Housing - In September, contractors' selling prices for new homes (both house and land) in British Columbia climbed 5.2% compared to September 2015. This was the 18th consecutive month of year-over-year increase in the New Housing Price Index (NHPI), dating back to April 2015.
Read more >>
Smoking - In 2015, just over one in eight (13.0%) Canadians aged 15 years and older reported smoking either daily or occasionally, down from 14.8% in 2013. The smoking rate for youths aged 15 to 19 was 9.7% in 2015 and young adults aged 20 to 24 continued to have the highest rate, at 18.5%.
Read more >>
Building Permits - The value of building permits issued by B.C. municipalities slipped 13.3% (seasonally adjusted) in September. The downturn was due in part to less planned activity in the non-residential (-16.9%) sector.
Read more >>
Housing Starts - The number of urban housing starts (in areas with at least 10,000 population) in British Columbia dipped 44.9% (seasonally adjusted at annual rates) in October. The decline in total urban housing starts was due primarily to a sharp downturn in the number of new apartment housing projects (-67.6%).
Read more >>



Current Surveys
Apprenticeship Student Outcomes (APPSO) Survey
Baccalaureate Graduate Survey
BC Hydro Workforce Profile Survey
BC Labour Market Agreement Outcomes Survey
BC Public Service - Career Development and Opportunities Survey
BC Public Service Exit Survey
Canada-BC Job Grant Outcomes Survey

Capilano University 2016 Employee Engagement Survey

FrontCounter BC Customer Satisfaction Survey
Labour Market Agreement for Persons with Disabilities Outcome Survey
Long Term Disability (LTD) Application Process Survey
North Island College 2016 Employee Engagement Survey

Office of the Information and Privacy Commissioner Work Environment Survey 2016
Procurement Transformation Survey (#BCTECH Strategy)
SDSI LMAPD Monthly Survey 2016-17
You can read more about any of these by visiting our Current and Recent Surveys page.



Did You Know
Lest we forget: Over 115,000 Canadians and Newfoundlanders (Newfoundland didn't become a province until 1949) died while serving during the First and Second World Wars.
Source: Veterans Affairs Canada


Headlines
B.C. posted the strongest GDP growth of all the provinces in 2015.

In September, the cost of new housing rose again, for the 18th consecutive month.

Smoking in Canadians 15 years old and older in 2015 is down from 2013.