Edition: November 14, 2017
Resources
News by Sector
Economy
Government Operations
Multiculturalism
Services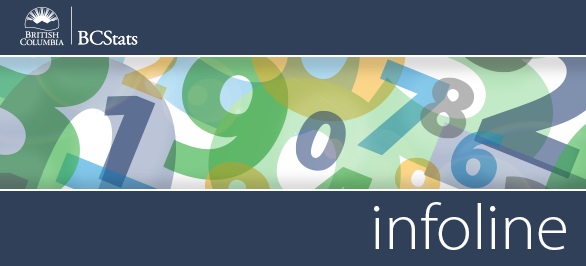 Infoline Highlights: Coverage for the week of November 6-10

Price of New Housing - In September the cost of new housing in B.C. was up from August by 0.7%. The rise was concentrated in Kelowna (+0.9%) and Vancouver (+0.7%), as Victoria registered no change in prices compared to the previous month.
Read more >>
Building Permits - The value of building permits climbed 13.6% (seasonally adjusted) in September from the previous month. An increase in permits for institutional (+73.2) and residential (+15.6%) projects offset decreases for industrial (‑16.0%) and commercial (‑4.5%) buildings.
Read more >>
Housing Starts - Housing starts in urban areas (areas with population of at least 10,000) in British Columbia increased 43.7% (seasonally adjusted at annual rates) in October compared to September. The increase was due to increases in apartments (+69.2%) and row units (+55.5%).
Read more >>



@BCStats on Twitter
In September the cost of new housing in B.C. was up from August by 0.7%. The rise was concentrated in Kelowna (+0.9%) and Vancouver (+0.7%).

Follow @BCStats on Twitter


Current Surveys
Baccalaureate Graduate Survey
BC Hydro Workforce Profile Survey
BC Public Service Exit Survey
Building Occupants Survey

Canada-BC Job Grant Outcomes Survey
Camosun College 2017 Employee Engagement Survey
Capilano 2017 Employee Engagement Survey

Elections BC Voters List Quality Survey
FrontCounter BC Customer Satisfaction Survey
Labour Market Agreement for Persons with Disabilities Outcome Survey
Local Food Survey

Long Term Disability (LTD) Application Process Survey
New Job Survey

SDSI LMAPD Monthly Survey 2016-17
You can read more about any of these by visiting our Current and Recent Surveys page.



Did You Know
76% of Canadians owned a smart phone in 2016. Younger people (between the ages of 15 and 34) were most likely to have a smart phone (94%), while people 75 and older were the least likely (18%) to have one, followed by people between the ages of 55 and 64 (74%).
Source: Statistics Canada


Headlines
The cost of new housing in B.C. rose slightly in September.

The value of B.C.'s building permits rose in September.

Housing starts in B.C. jumped in October over the month before.