Edition: November 18-November 22, 2019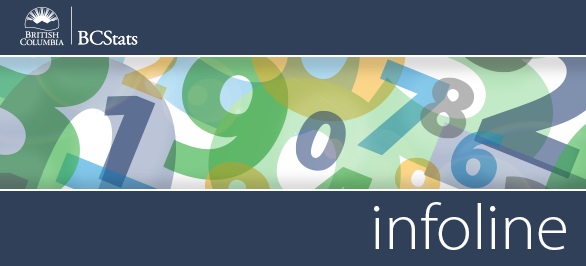 Infoline Highlights for the Week of November 18-22

Visitor Entries - Visitor entries to B.C. from the U.S. and overseas was up 1.0% (seasonally adjusted) in September, as a three-month downturn came to an end. While entries from overseas sources were relatively unchanged from the previous month (-0.1%), travel to B.C. from the U.S. jumped 1.4%.
Read more >>
Retail Sales - Sales by retailers in the province stalled (-0.2% seasonally adjusted) in September, following two months of increases. Canadian sales inched down 0.1%. Ontario (+0.3%), Nova Scotia (+0.6%) and Quebec (+0.7%) were the only provinces where sales strengthened.
Read more >>
Building Investment - Total investment in building construction in B.C. continued to ease in September, decreasing 0.6% (seasonally adjusted) to $2.6 billion. Investment in non-residential building construction in the province was slightly higher than in August (+0.7% to $793 million).
Read more >>
Manufacturing Sales - Manufacturing sales in B.C. bucked the national trend in September, climbing 3.7% (seasonally adjusted). Sales of manufactured food products (+2.4%) rebounded from a lacklustre August (-2.8%), helping to drive total receipts for non-durables 7.3% higher.
Read more >>
Food Services and Drinking Places - Sales at British Columbia's food services and drinking places jumped 2.5% (seasonally adjusted) to $1.1 billion in September, following two months of slowdowns. Nationally, industry sales were up 0.6% (to $6.2 billion) with five provinces recording higher revenues.
Read more >>
Consumer Price Index - British Columbia's consumer price index (CPI) was 2.2% higher (unadjusted) in October 2019 than in the same month of 2018. On a monthly basis, the CPI dropped 0.2% from September 2019. The overall annual inflation rate dropped to 1.7% when food and energy are excluded from the index.
Read more >>





Current Surveys
Active Transportation Strategy Survey



BC Hydro Workforce Profile Survey
BC Public Service Exit Survey
BC Public Service New Job Survey

BC Student Outcomes Survey of Baccalaureate Graduates




BC Wildfire Service Auxiliary Work Environment

Capilano University Employee Engagement

City of Victoria Business Survey


Long Term Disability (LTD) Application Process Survey

OCIO ES Client Satisfaction Survey




Workforce Development Agreement Outcomes

Workforce Development Agreement Employer Outcomes



You can read more about any of these by visiting our Current Surveys page.



Did You Know
40% of B.C. households have moved within the past five years, more than any other province. Most (61%) of household moves in Canada are within the same city, and they are most likely to be driven by the need or desire for a bigger home, in a better neighbourhood.
Source: Statistics Canada


Headlines
More people visited B.C. in September, especially from the U.S.

Building investment in B.C. decreased again in September.

Inflation in B.C. was higher in October than October 2018.