Edition: November 19, 2018
Resources
News by Sector
Economy
Government Operations
Multiculturalism
Services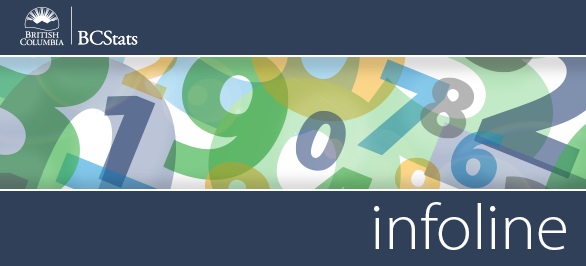 Infoline Highlights: Coverage for the week of November 13-16

Manufacturing Sales - Sales of goods manufactured in the province inched up 0.7% (seasonally adjusted) in September. Wood (-1.3%) manufacturers continued to see a downturn in sales, and sales by food (-0.7%) manufacturers also slowed.
Read more >>
Housing Starts - The number of urban housing starts (areas with population of at least 10,000) in British Columbia climbed 17.3% (seasonally adjusted at annual rates) in October. The rise was due primarily to a sharp upturn in the number of new apartment housing projects (66.2%), but there was also an increase in semi-detached (+15.2%) starts.
Read more >>
Employment Insurance - Nearly three quarters (70%) of British Columbians who were unemployed in 2017 had contributed to Employment Insurance (E.I.). Among contributors, 90% (61,100 people) were eligible to receive E.I. (contributors with valid job separation who had sufficient hours to qualify), one of the highest rates in the country.
Read more >>


@BCStats on Twitter
Nearly 70% of British Columbians who were unemployed in 2017 had contributed to Employment Insurance (E.I.), and 90% of these people were eligible to receive benefits - one of the highest rates in the country.



Follow @BCStats on Twitter


Current Surveys
Baccalaureate Graduates Survey

BC Hydro Workforce Profile Survey
BC Public Service Exit Survey
BC Public Service New Job Survey

Canada-BC Job Grant Outcomes Survey
FrontCounter BC Customer Satisfaction Survey

Long Term Disability (LTD) Application Process Survey

OCIO Client Satisfaction Survey



Online Games Survey

School District #72 (Campbell River) Employee Engagement Survey



You can read more about any of these by visiting our Current and Recent Surveys page.



Did You Know
At month-end, 40% of Canadians say they are $200 or less away from financial insolvency, with Atlantic Canadians (49%) most likely to feel this way, and British Columbians the least likely (35%).
Source: Ipsos Canada



Headlines
Manufacturing sales in B.C. increased slightly between August and September.

The number of housing starts in B.C.'s urban areas rose in October from the month before.

In 2017, almost hree quarters of unemployed people in B.C. had contributed to employment insurance benefits.