Edition: November 20, 2017
Resources
News by Sector
Economy
Government Operations
Multiculturalism
Services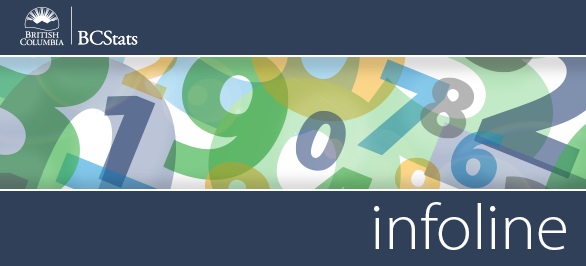 Infoline Highlights: Coverage for the week of November 13-17

Consumer Price Index - British Columbia's consumer price index (CPI) rose 2.0% (unadjusted) in October compared to the same month of the previous year. The year-over-year rate of inflation was down 0.1% from September.
Read more >>
B.C. Technology Sector Profile, 2017 - The business of high tech has grown to be an integral part of the global economy, including in British Columbia, which is home to a number of high tech clusters. Firms in the technology sector tend to be innovative and efficient, producing goods and services that drive economic growth by improving productivity and profitability for all types of businesses, while at the same time providing relatively high-wage employment.
Read more >>
Manufacturing Sales - B.C. manufacturing sales (seasonally adjusted) went up by 0.4% in September compared to August, led by increases in computer and electronic product (+14.2%) and primary metal (+7.4%) manufacturing. The gain was concentrated in the non‑durable goods industries (+0.7%), while durable goods sales saw little change (+0.1%) in the month.
Read more >>



@BCStats on Twitter
B.C.'s economy (chained GDP, in 2007 dollars) expanded 3.5% in 2016, registering the strongest growth among the provinces.

Follow @BCStats on Twitter


Current Surveys
Baccalaureate Graduate Survey
BC Hydro Workforce Profile Survey
BC Public Service Exit Survey
Canada-BC Job Grant Outcomes Survey
Camosun College 2017 Employee Engagement Survey
Capilano 2017 Employee Engagement Survey

Elections BC Voters List Quality Survey
FrontCounter BC Customer Satisfaction Survey
Labour Market Agreement for Persons with Disabilities Outcome Survey
Local Food Survey

Long Term Disability (LTD) Application Process Survey
New Job Survey
Simon Fraser University Employee Engagement Survey

SDSI LMAPD Monthly Survey 2016-17
You can read more about any of these by visiting our Current and Recent Surveys page.



Did You Know
68% of unemployed Canadians would not move to another province for a job offer. 36% said this was due to personal reasons - they couldn't leave family or friends, or that their spouse could not move.
Source: Statistics Canada


Headlines
The consumer price index in B.C. rose in October compared to the previous year.

B.C.'s high tech sector's GDP climbed in 2016.

Manufacturing sales in B.C. rose slightly in September compared to August.