Edition: November 21, 2016
Resources
News by Sector
Economy
Government Operations
Multiculturalism
Services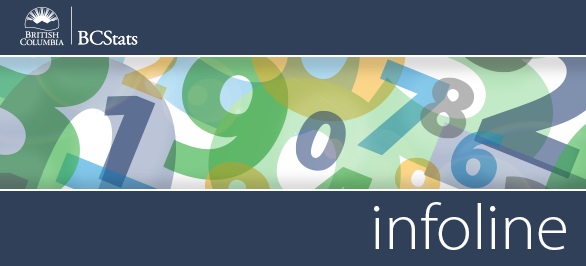 Infoline Highlights: Coverage for the week of November 14 - 18

Consumer Price Index (CPI) - British Columbia's consumer price index (CPI) climbed 2.1% (unadjusted) in October, compared to the same month of the previous year. This marks an increase in the year-over-year rate of inflation since September, when it was 1.8%.
Read more >>
Aquaculture - In 2015, total production from British Columbia's aquaculture producers, at 102,385 tonnes, was up considerably (+42.7%) from 2014 levels. While output of shellfish (clams, oysters, mussels, scallops, etc.) was slightly stronger (+2.7%), production of finfish (salmon, trout, steelhead, etc.), which accounted for 92% of the province's aquaculture production in 2015, climbed sharply (+47.9%).
Read more >>
Manufacturing Sales - Manufacturing sales in British Columbia were slightly higher (+0.6%, seasonally adjusted) in September, following a 1.6% increase in the previous month. Non-durables were up 1.3% as a result of stronger sales from producers of food (+2.8%), paper (+4.6%) and printing and related support activities (+4.9%) products.
Read more >>


@BCStats on Twitter
The cost of groceries purchased from stores decreased 2.6% in October.
Follow @BCStats on Twitter


Current Surveys
Apprenticeship Student Outcomes (APPSO) Survey
Baccalaureate Graduate Survey
BC Hydro Workforce Profile Survey
BC Labour Market Agreement Outcomes Survey
BC Public Service - Career Development and Opportunities Survey
BC Public Service Exit Survey
Canada-BC Job Grant Outcomes Survey

Capilano University 2016 Employee Engagement Survey
Diploma, Associate Degree, and Certificate Student Outcomes (DACSO) Survey
FrontCounter BC Customer Satisfaction Survey
Labour Market Agreement for Persons with Disabilities Outcome Survey
Long Term Disability (LTD) Application Process Survey
North Island College 2016 Employee Engagement Survey

Procurement Transformation Survey (#BCTECH Strategy)
SDSI LMAPD Monthly Survey 2016-17
You can read more about any of these by visiting our Current and Recent Surveys page.



Did You Know
Only 48% of British Columbians who own or lease a car install winter tires on it for the winter months, as opposed to 71% Canadians overall.
Source: Ipsos Canada


Headlines
The consumer price index in B.C. increased in October from October 2015.

B.C.'s 2015 aquaculture production jumped over 42% from 2014.

Manufacturing sales in B.C. rose slightly in September.