Edition: November 25-November 29, 2019
Resources
News by Sector
Economy
Government Operations
Multiculturalism
Services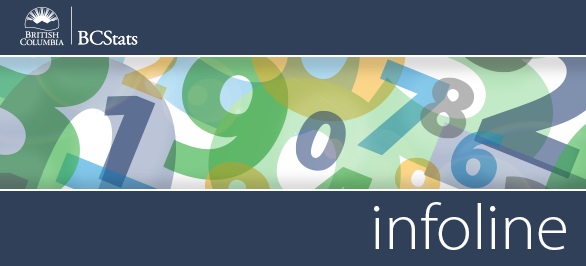 Infoline Highlights for the Week of November 25-29

Industrial Product Price Index - Canadian manufacturers' selling prices were 1.3% lower in October than in the same month of 2018. The decrease was mostly attributable to falling prices for energy and petroleum products (-9.5%), which saw the sixth consecutive year-over-year decline.
Read more >>
Average Weekly Earnings - Average weekly earnings of payroll employees in British Columbia climbed $5.95 (+0.6%) to $1,009.30 (seasonally adjusted) in September. Earnings were up in both the goods (+0.9%) and services (+0.6%) sectors.
Read more >>
Bankruptcies - There were 345 bankruptcies filed by consumers in British Columbia in September, a slight (-0.6%) decline from the same month of 2018. Conversely, the number of business bankruptcies was notably higher (+75.0% to seven).
Read more >>
Wholesale Sales - Wholesale sales in the province rose 2.1% (seasonally adjusted) in September, marking the fourth consecutive monthly increase. Strong sales in the food, beverage and tobacco (+5.4%) and the motor vehicle and motor vehicle parts and accessories (+6.3%) subsectors explained much of the climb.
Read more >>




Current Surveys
Active Transportation Strategy Survey



BC Hydro Workforce Profile Survey
BC Public Service Exit Survey
BC Public Service New Job Survey

BC Student Outcomes Survey of Baccalaureate Graduates




BC Wildfire Service Auxiliary Work Environment

Capilano University Employee Engagement

City of Victoria Business Survey


Long Term Disability (LTD) Application Process Survey

OCIO ES Client Satisfaction Survey




Workforce Development Agreement Outcomes

Workforce Development Agreement Employer Outcomes



You can read more about any of these by visiting our Current Surveys page.



Did You Know
Over 31 million people from the U.S. and abroad visited Canada in 2018, with the bulk of them visiting Ontario (43.8%), B.C. (24.1%), and Quebec (14.2%).



Headlines
Canada's IPPI was lower in September than September 2018.

B.C.'s payroll employees earned more in September than August.

Fewer B.C. consumers filed for bankruptcy in September than the year before.