Edition: November 26, 2018
Resources
News by Sector
Economy
Government Operations
Multiculturalism
Services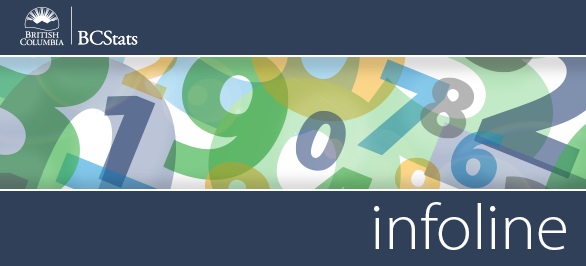 Infoline Highlights: Coverage for the week of November 19-23

Consumer Price Index (CPI) - British Columbia's consumer price index (CPI) was 3.0% higher (unadjusted) in October than in the same month of last year. On a monthly basis, the rate of inflation was up 0.4% from September 2018.
Read more >>
Retail Sales - Sales by retailers in the province stalled (-0.0%, seasonally adjusted) for the fifth straight month in September. Nationally, retail sales edged up 0.2%, with gains in 6 of 11 subsectors, led by food and beverage stores.
Read more >>
Food Services and Drinking Places - Receipts at food services and drinking places in B.C. were up 0.6% (seasonally adjusted) in September. Canadian establishments saw receipts climb at a similar pace (+0.5%), as revenues were higher in eight provinces, including Quebec (+0.6%) and Ontario (+0.5%).
Read more >>
Employment Insurance - The number of regular Employment Insurance (EI) recipients in B.C. declined notably (-8.3% to 37,650, seasonally adjusted) in September. A decrease in the number of both male (-7.8%) and female (-9.0%) beneficiaries was recorded.
Read more >>
Homicide - Police services in British Columbia reported 118 homicides during 2017. There were 30 more homicides last year than in 2016, pushing the province's homicide rate to 2.45 (up from 1.85 in 2016).
Read more >>
Wholesale Sales - Wholesale sales in the province stalled (-0.4%, seasonally adjusted) in September. Declines in four of seven subsectors, led by the miscellaneous subsector (-10.4%), explained the overall decrease.
Read more >>
Visitor Entries - Visitor entries to B.C. from the U.S. and overseas bucked the national trend in September, climbing 2.0% (seasonally adjusted). Entries from overseas sources jumped 3.2% from August numbers, and travel to B.C. from the U.S. also increased (+1.5%).
Read more >>


@BCStats on Twitter
B.C.'s homicide rate increased to 2.45 in 2017, rising to 118 homicides in 2017 from 88 in 2016.



Follow @BCStats on Twitter


Current Surveys
Baccalaureate Graduates Survey

BC Hydro Workforce Profile Survey
BC Public Service Exit Survey
BC Public Service New Job Survey

Canada-BC Job Grant Outcomes Survey
FrontCounter BC Customer Satisfaction Survey

Long Term Disability (LTD) Application Process Survey

OCIO Client Satisfaction Survey



Online Games Survey

School District #72 (Campbell River) Employee Engagement Survey



You can read more about any of these by visiting our Current and Recent Surveys page.



Did You Know
7.4 million cubic metres of crude oil was sent to Canadian refineries in September, with the bulk of the total volume (63.5%) sent to Western Canadian refineries, and the rest going to refineries in Ontario and Quebec.
Source: Statistics Canada



Headlines
The consumer price index in B.C. was higher in October than the same month in 2017.

B.C.'s retail sales in September were unchanged from the month before.

There were fewer people in B.C. receiving employment insurance benefits in September than in August.