Edition: November 28, 2016
Resources
News by Sector
Economy
Government Operations
Multiculturalism
Services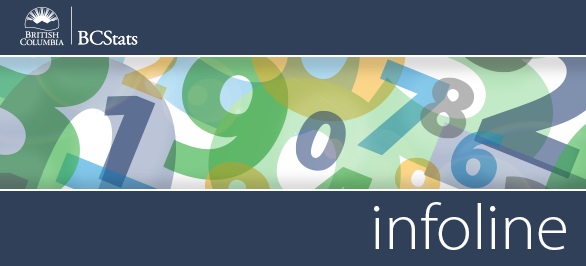 Infoline Highlights: Coverage for the week of November 21 - 25

Homicide - There were 95 victims of homicide in British Columbia in 2015, up from 89 in 2014. Nineteen of them were victims of gang-related homicide.
Read more >>
Post-Secondary Education - Total enrolment in public postsecondary institutions in British Columbia decreased 1.7% in the 2014/2015 academic year. Enrolments declined at the same pace for male and female students (each down 1.7%), though female enrolment remains consistently higher overall.
Read more >>
Education - In the 2014/15 school year, enrolment in British Columbia public elementary and secondary schools was 543,105 (excluding general programs for adults and vocational programs for youth and adults), down 0.7% from 2013/14 (based on headcount number of students enrolled in programs at the beginning of the school year).
Read more >>
Employment Insurance - The number of people receiving regular Employment Insurance benefits in B.C. inched up 0.9% (seasonally adjusted) to 54,410 in September, the third increase in beneficiaries this year.
Read more >>
Retail Sales - Retail sales in British Columbia climbed 0.9% (seasonally adjusted) in September, following a lacklustre August (+0.0%). Nationally, retail sales saw the first real sign of growth in recent months, having remained relatively stagnant since May, rising 0.6% in September.
Read more >>
Visitor Entries - Total non-resident entries to Canada via British Columbia jumped 2.3% (seasonally adjusted) in September. While the number of visitors from the U.S. rose a solid 1.1%, entries from the rest of the world (+5.7%) were up even more markedly.
Read more >>
Wholesale Sales - Wholesalers in British Columbia saw revenues slip 0.9% (seasonally adjusted) in September, partly due to weaker sales in the motor vehicle and parts subsector. Canadian wholesale sales decreased 1.2%, with declines recorded in five of the seven subsectors.
Read more >>



Current Surveys
Apprenticeship Student Outcomes (APPSO) Survey
Baccalaureate Graduate Survey
BC Hydro Workforce Profile Survey
BC Labour Market Agreement Outcomes Survey
BC Public Service - Career Development and Opportunities Survey
BC Public Service Exit Survey
Canada-BC Job Grant Outcomes Survey

Capilano University 2016 Employee Engagement Survey
Diploma, Associate Degree, and Certificate Student Outcomes (DACSO) Survey
FrontCounter BC Customer Satisfaction Survey
Labour Market Agreement for Persons with Disabilities Outcome Survey
Long Term Disability (LTD) Application Process Survey
North Island College 2016 Employee Engagement Survey

Procurement Transformation Survey (#BCTECH Strategy)
SDSI LMAPD Monthly Survey 2016-17
You can read more about any of these by visiting our Current and Recent Surveys page.



Did You Know
Didn't find the perfect gift on Black Friday and Cyber Monday? You're not alone - eight in ten (79%) Canadians 'agree' (29% strongly/50% somewhat) that it's hard to come up with new ideas for holiday gifts.
Source: Ipsos Canada and World Vision


Headlines
The number of homicides in B.C. increased by 6 in 2015.

Enrollment in post-secondary education in B.C. dipped in the 2014-2015 academic year.

Retail sales in B.C. rose slightly in September.