Edition: November 28, 2017
Resources
News by Sector
Economy
Government Operations
Multiculturalism
Services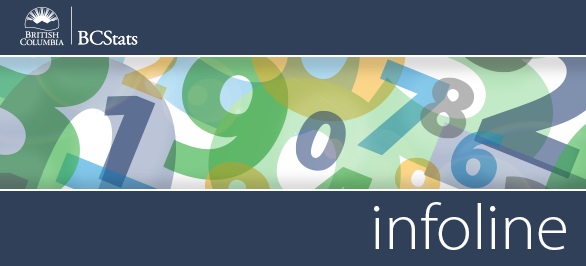 Infoline Highlights: Coverage for the week of November 20-24

Employment Insurance - The number of people receiving employment insurance (EI) benefits in British Columbia decreased by 2,940 (‑5.9%) in September compared to the previous month, to reach 46,810 individuals.
Read more >>
Retail Sales - Retail sales in British Columbia rose by 0.4% in September compared to August, mainly due to increased sales in electronics and appliance, and furniture and home furnishing stores. Notable decreases were observed at motor vehicle and parts dealers, and food and beverage stores.
Read more >>
Food Services and Drinking Places - Revenues generated in British Columbia's food service and drinking places industry grew 1.5% (seasonally adjusted) in September, the second largest increase among provinces. The increase was led by the special food services sub-industry, comprised of caterers, mobile food services (e.g., food trucks) and food service contractors.
Read more >>
Wholesale Sales - Sales by wholesalers (seasonally adjusted) in British Columbia fell in September to reach $6.5 billion, a 2.0% decrease compared to the previous month. The decline was broad‑based, with sales in all but two subsectors falling in the month, and led by lower sales in motor vehicle and parts (‑6.8%) and food, beverage and tobacco (‑5.1%) wholesalers.
Read more >>
Visitor Entries - In September, B.C. welcomed almost 670 thousand non-resident travellers (seasonally adjusted), of which about three quarters were from the United States. Non-resident traveller entries to Canada through British Columbia increased (+2.5%) in the month, with gains in both the number of travellers from the United States (+2.2%) and the rest of the world (+3.6%).
Read more >>



@BCStats on Twitter
B.C. Startup in Residence (STIR) partners smaller tech companies with innovative public servants to improve services for people in B.C. Find out more at the event this Friday in Vancouver, or tune into the livestream.

Follow @BCStats on Twitter


Current Surveys
Baccalaureate Graduate Survey
BC Hydro Workforce Profile Survey
BC Public Service Exit Survey
Canada-BC Job Grant Outcomes Survey
Camosun College 2017 Employee Engagement Survey
Capilano 2017 Employee Engagement Survey

Elections BC Voters List Quality Survey
FrontCounter BC Customer Satisfaction Survey
Labour Market Agreement for Persons with Disabilities Outcome Survey
Local Food Survey

Long Term Disability (LTD) Application Process Survey
New Job Survey
Simon Fraser University Employee Engagement Survey

SDSI LMAPD Monthly Survey 2016-17
You can read more about any of these by visiting our Current and Recent Surveys page.



Did You Know
Immigrants who arrive in B.C. for family reasons are usually still living in the province five years later (91.8%), although refugees (81.9) and immigrants who arrive for economic reasons (84.6) are a little less likely to stay on.
Source: Statistics Canada


Headlines
The number of people receiving employment insurance in B.C. dipped in September.

Retail sales rose in September compared to August.

Non-resident traveller entries to Canada through B.C. increased in September