Edition: November 4-November 8, 2019
Resources
News by Sector
Economy
Government Operations
Multiculturalism
Services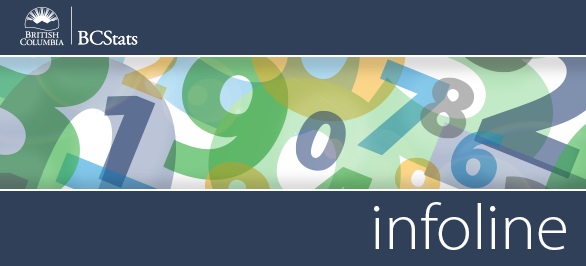 Infoline Highlights for the Week of November 4-8

Labour Force Statistics - The unemployment rate in British Columbia was 4.7% in October, down 0.1 percentage points from September but up half a percentage point from 12 months ago. Overall, the labour force grew (+14,000) and there were more jobs (15,300) in October. Both areas saw growth over the previous 12 months, with employment up by 50,000 and an additional 68,300 individuals joining the labour force.
Read more >>
Exports - Through the first three quarters of 2019, there was a 5.6% decline in the value of B.C. origin exports compared to the same nine-month period a year earlier. Exports fell to most major destinations, including the United States (-6.2%), Japan (-11.8%), South Korea (-3.3%), the European Union (-5.5%) and Taiwan (-11.8%). There was a marginal increase in shipments to Mainland China (+0.2%), while exports to India bucked the overall trend, rising 13.0%.
Read more >>





Current Surveys
Active Transportation Strategy Survey



BC Hydro Workforce Profile Survey
BC Public Service Exit Survey
BC Public Service New Job Survey

BC Student Outcomes Survey of Baccalaureate Graduates




BC Wildfire Service Auxiliary Work Environment

Capilano University Employee Engagement

FrontCounter BC Customer Satisfaction Survey

Long Term Disability (LTD) Application Process Survey

OCIO ES Client Satisfaction Survey




Workforce Development Agreement Outcomes

Workforce Development Agreement Employer Outcomes



You can read more about any of these by visiting our Current Surveys page.



Did You Know
Canadians spend about six hours per week reading, according to a survey commissioned by Indigo, with fiction readers spending more time with a book (7.8 hours/week) than non-fiction readers (6.5 hours/week).
Source: Ipsos


Headlines
B.C.'s unemployment rate dipped slightly in September from the month before.

The value of B.C.'s exports decreased in the first three quarters of 2019 compared to the same period in 2018.